Attending a blog conference can be life changing. Although the original appeal of blogging for me was being able to hide behind a screen all day, many of my best connections and bloggy friendships have come from attending real-life events.
So far I have only been to a handful of events, but each one provided at least a new tip, trick, friendship, or business connection. There has been value in every outing. Sometimes just talking to other bloggers has been the biggest reward. The majority of bloggers are helpful and friendly. They want to collaborate, not compete. It's great to bounce ideas off each other, discuss our blogging oopsies, and even the money end of things.
Of course, traveling to these events can be pricy and time-consuming. I have been trying to pick one "must-go-to" per year. Seeking sponsorship is an option, but you can also just pay your own way and consider it investing in your blog business.
Networking is huge in blogging. Social media is one thing, but meeting someone face to face can be a game-changer. This tends to be where ongoing brand relationships and ambassadorships can be formed.
Pin this to check back often!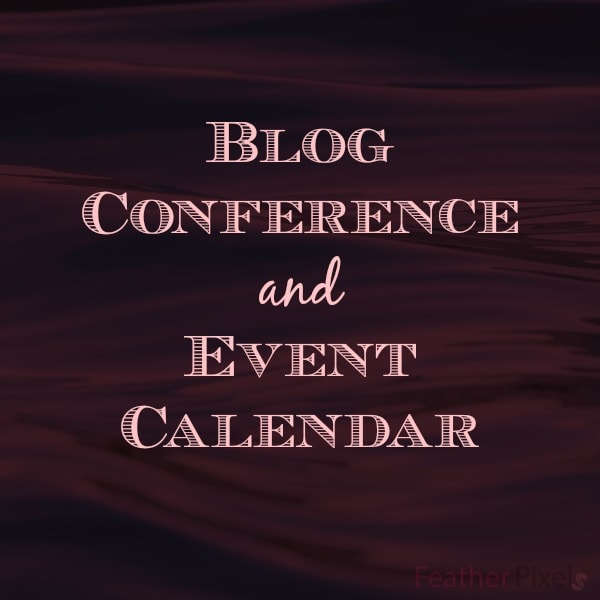 This will be an ongoing blog conference and event calendar. I will update it as frequently as possible.
Blog Conference and Event Calendar
Please let me know if you have any events to add to the calendar.
Quotes from Bloggers
Both years I went to BlogHer (2010 & 2013) were unbelievably beneficial in both my professional and personal life! I met some incredible bloggers, connected with some amazing companies I have strong ties with today, and learned quite a lot when it comes to blogging, brands, and how to make business connections for the future. — Kayla from The Eclectic Element

I loved the Sits Girls conference. They do several each year across the states, so they are more accessible often within a short driving distance which makes them less expensive as well. I liked the smaller conference feel where I could connect and network with other bloggers. The sessions were really great and informative as well. Very well put together conference and one I will definitely attend again in the future. — Janel from A Mom's Take

Attending a conference when you are a blogger, is beneficial in so many ways. It allows you to get new ideas, see things that have been successful for others and connect with all the amazing people that you have met online. In the ever-changing blogosphere it is essential to get out of your blogging box and venture offline for education, networking and just plain fun. I guarantee it will be worth it. — Michelle from Domestic Executive Online

I have found that I prefer smaller conferences. When I attended BlogHer Food, I was able to have some really great conversations with brands, PR reps and other bloggers. Being able to spend 10 minutes or more with someone gives you a chance to have a meaningful conversation. I've started some great new partnerships and friendships as a result of attending a smaller conference. At larger conferences, I felt rushed, and not at all like I could connect with anyone easily. — Brett from This Mama Loves

For me, the main benefit is that I leave feeling so energized – filled with new ideas and plans and motivation. But it's also about the connections – someone that I met at BlogHer last year remembered me, and asked me to come speak at a conference she organizes. — Meagan from Sunshine and Sippy Cups
What's the best blog conference that you have been to? Or most valuable thing that you have learned from one?