Bob's Red Mill has the best quality baking products I've ever worked with. And what a variety! If you are in need of Gluten Free products, they have everything you need and a great guide to help with the difficult and confusing transition.
Bob's Red Mill Baking Products
For review, they sent me: TVP (Textured Vegetable Protein), All natural Whey Protein Concentrate, Finely Ground Hazelnut Meal/Flour and Whole Grain Oat Flour.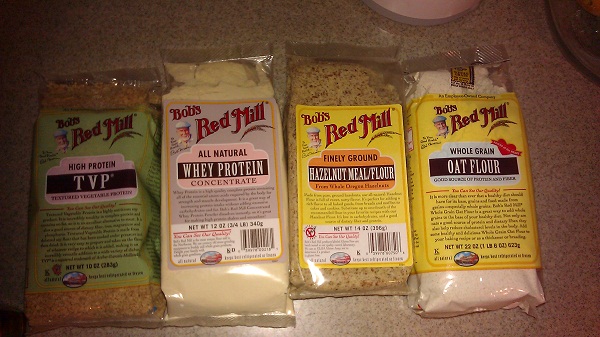 High Protein TVP: This textured vegetable protein is great for adding a crunchy topping to muffins or cooked and added to soups for additional protein. It's fat free and low in calories and carbs so it's a great way to sneak in extra protein and fiber. It has pretty much no taste so it will take on the flavor of whatever you are using it with. I added cinnamon to it for a muffin topping and rolled my protein bites in it for the crunch. In soup, it's a lot like barley–bland but great for variety on the spoon.
All Natural Whey Protein Concentrate: I am so excited to have found this product! I am constantly trying to find ways to get enough protein into my daily diet and this can be added to almost anything. Smoothies, cookies, pancakes, muffins, cakes… all without changing the taste.
Finely Ground Hazelnut Meal/Flour: Woah. This is just fantastic. It's made from whole Oregon Hazelnuts and the flavor is amazing. With low net carbs, healthy fat, fiber and protein, it's great for muffins, pie crusts and any pastries.
Whole Grain Oat Flour: When I was little my grandma used to make us oat bran muffins with milk chocolate chips. It was a box mix and they don't make it anymore. When I saw this oat flour, I was determined to replicate that recipe from my youth. I am still tweaking it and will definitely share it when it's ready.
Using all four of these ingredients, my best recipe buddy, Vickie and I concocted these Low Carb High Protein Cinnamon Hazelnut Muffins. They are freaking delicious.
Follow Bob's Red Mill on Pinterest for tons of great recipe ideas!