Digestive health is extremely important for overall health. It's really hard to get everything you need from your diet alone, and most of us require additional supplements. I received products from ReNew Life for review.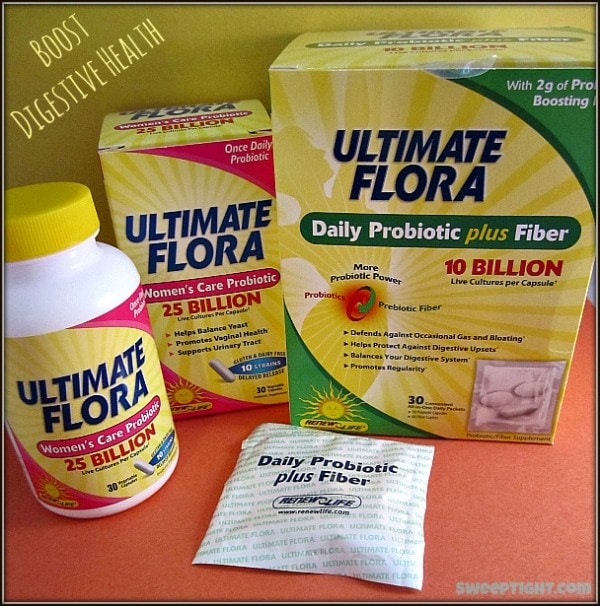 Boost Digestive Health
The arrival of these products was perfect timing. I recently had Lithotripsy (a procedure to break up kidney stones) on my left kidney. This follows up with taking a few days of Vicoden, and a full round of a strong antibiotic. Both of these medicines can reek havoc on your digestive system and throw all of the good bacteria out of whack. It's even more important during times like this to take a daily probiotic supplement.
This was not my first time working with Renew Life, so I already considered them a brand that I can trust. This time they sent me the following two products:
Ultimate Flora: Daily Probiotic plus Fiber – Perfect for people who want to increase healthy bacteria growth, as well as receive a daily dose of fiber. This product can help promote regularity, protect against digestive upsets, defend against gas and bloating, and balance your digestive system. It comes in convenient daily packets that contain the three pills that you need. That's ideal for tossing into my purse so I won't forget to take them.
Ultimate Flora: Women's Care Probiotic – This one is an extra-strength formula specifically designed for women. Not only does it help replenish good bacteria, but it also can help promote vaginal flora balance, support urinary tract health, and help regulate vaginal pH. Considering the procedure I just had, I think it's apparent that I can use anything to help my urinary tract!
I would definitely say that taking these probiotics along with my recent medications helped keep any nasty digestive side effects away. Even if you are not taking antibiotics, I would still recommend adding a probiotic supplement to your diet. In my experience, it plays a big role in increasing my overall health!
Renew Life has several products to aid in digestive health. There's an entire line of Ultimate Flora choices with different formulas for different needs. Several stores carry the Renew Life line, use the store locator to find one near you.
These products have not been evaluated by the FDA. These products are not intended to diagnose, treat, cure or prevent any disease. See Renew Life site for more details.