I am a huge fan of brands that give back to those in need. I am an even bigger fan when they have cute stuff that helps promote their giving back. Sashka Co is one of those companies. They have bracelets that are not just cute – but give in support of Water.org. I received a bracelet from Sashka Co in exchange for my review.
Sashka Co – Bracelets Giving Back
Did you know that 780 million people — or about one in nine — lack access to clean water? More than twice that many, 2.5 billion people, don't have access to a toilet. With the purchase of a bracelet from Sashka Co, 5% of your purchase goes to Water.org – with 25 bracelets, one person is provided with resources for clean water for life. Working for a non-profit that helps children in this situation, I have learned it is hard for us to understand exactly what it means to have a toilet. Something so simple (and often regarded as "gross") actually helps cut down on disease and health issues more than most of us realize.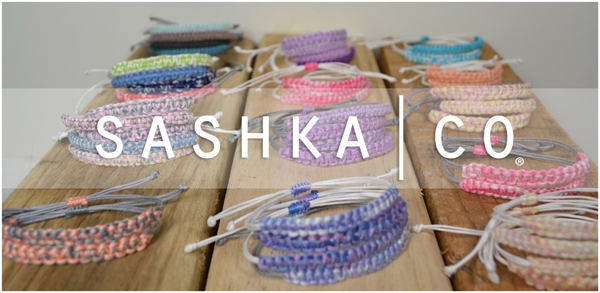 Sashka Co has a variety of bracelets that, with your purchase, can help give clean water solutions to people all over the world. Their Original Collection features bracelets as low as $5 with loads of color options. I am a huge fan of their Threads Collection, which has bracelets with simple threads of color – and they start at just $4. I received one from their Charm Collection, with a variety of colors and charms. I love the meaning behind them.
My bracelet is pink and has a dove charm, because it reminds me of peace, as well as the great cause Sashka Co is supporting through Water.org. Every bracelet is handmade in the United States and they are adjustable so they can fit just about everyone. You can even use the bracelets to help with your own fundraising campaigns (visit their FAQ to learn more).
Check out their website to find a bracelet that might fit your style – and help give to those in need of clean water.
Which bracelet is your favorite?