Cascade Platinum is the newest addition to the Cascade family. Being a fan of the brand already, I was thrilled to partner with them and review their new product through Mom Central.
Cascade Platinum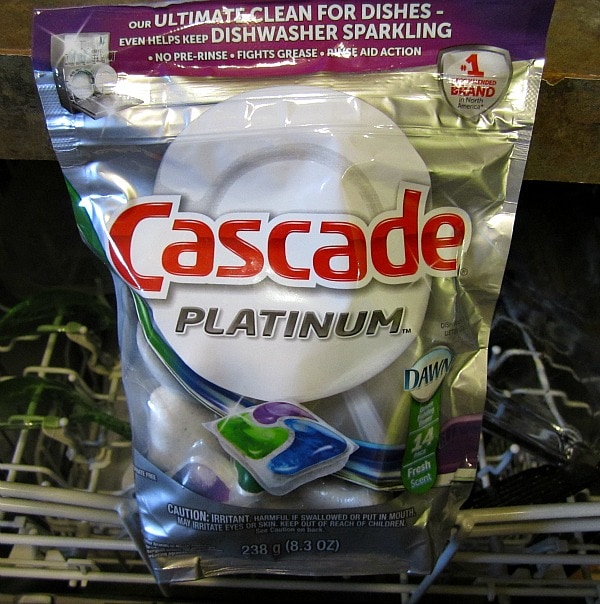 I am completely dependent on my dishwasher. I pretty much throw a fit when I have to hand wash something. Yes, I am spoiled. Growing up, my Grandma always used Cascade, so that's always been my main brand of choice, as well. I have tried others, but always end up going back.
Sometimes I have noticed that my dishwasher itself can get a little gross. I mean, how can it clean my dishes when it's not even that clean itself? New Cascade Platinum Pacs are designed to clean the interior of your dishwasher while they are washing your dishes.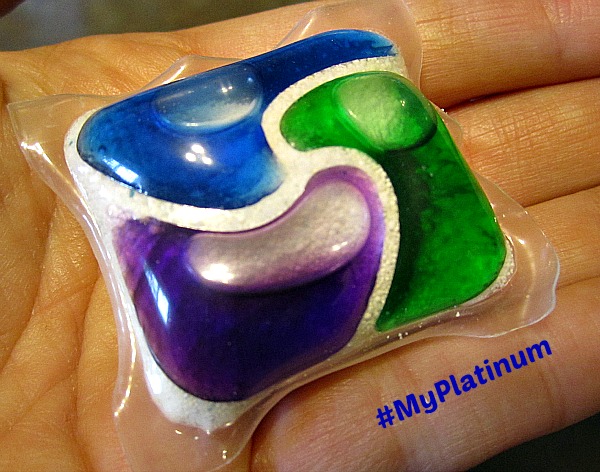 This powerful new formula contains the grease fighting power of Dawn. The new packet eliminates the need to pre-wash dishes and scrubs away even tough 24 hour stuck-on food. It provides the ultimate shine in dishware with its increased enzyme power. The unique polymer system helps prevent hard-water film build-up to keep dishwasher interior sparkling, too.
Cascade Partners with Gail Simmons
Gail Simmons, Top Chef judge and editor of Food+Wine magazine has partnered with Cascade to discuss the importance of food presentation. As a blogger who sometimes posts recipes, I totally understand this. There is nothing worse that taking a picture of your beautifully-prepared recipe on a dingy, gross plate. It's surprising on how hard it is to miss little details like this, too. Everything that goes into taking a good picture, it's easy to space out and not catch a smear or smudge on your dishware until it's too late!
Gail recommends to use Cascade Platinum for premium presentation. "Drizzle bright sauces on sparkling white plates or layer desserts in crystal-clean glassware." Just a couple easy tips to impress guests or your Pinterest and Instagram fans! For more info on this partnership, visit the Cascade Facebook page and the Cascade YouTube page.
Cascade Platinum Contest
Speaking of Instagram, Cascade Platinum is hosting a four week Instagram contest! Here's a chance to show off your sparkling images. Each week, two lucky contestants will receive a brand new Whirlpool dishwasher. One grand prize winner will get a Platinum kitchen makeover!
How to enter:
Must have an Instagram account and visit the contest page. After you register, upload a photo using the hashtag #MyPlatinum and tag @MyCascade.
Each week will have a 6-day entry period where you can submit the proper photo.
Week 1:  My Platinum Page (Entry period:  6/3 – 6/9)

Show your best dish styled from the sparkling plate up.

Week 2:  My Platinum Bite (Entry period:  6/10 – 6/16)

Show your best bite and most creative use of sparkling silverware.

Week 3:  My Platinum Clink (Entry period:  6/17 – 6/23)

Show how you serve up creative concoctions in sparkling glasses.

Week 4:  My Platinum Table (Entry period:  6/24 – 6/30)

Show your sparkling tablescape for your most special celebrations.
Don't forget to use the hashtag and tag the brand to be qualified!
Final Thoughts
I definitely noticed how well Cascade Platinum works! I purposely did not rinse a nasty BBQ sauce-filled dish for over 24 hours to see how well it would turn out. I am happy to report that it came out sparkling clean. NO evidence of the BBQ sauce whatsoever. This is very exciting news. Also, my dishwasher already seems cleaner after only two uses. No more funky smell coming from it. We have found a winner, folks.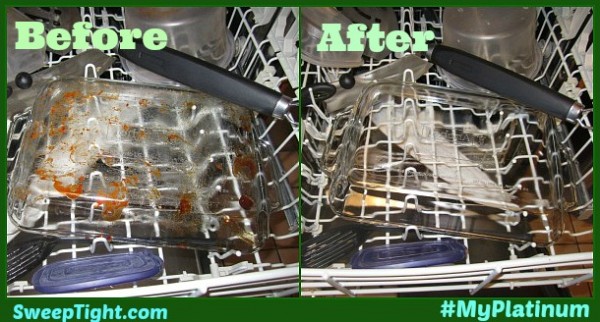 Purchase Cascade Platinum now at grocery stores and retailers nationwide.
Do you have a dishwasher? Have you tried Cascade Platinum yet?