Some people crave sweets, I crave protein like, tuna…I guess you could say I am a protein fanatic, steak, chicken, fish, I love it and crave it all! But being on the go more hours in the day than not, I don't always have time to cook the protein meals that I love, especially when I'm late for work and need to be able to grab something to take for lunch. I don't like to eat much fast food, especially because i do really well with a high protein low carb diet and I'd always rather bring lunch from home to work. I don't do well without my protein, it's what keeps me going throughout my sometimes hectic day.
One of my favorite "to go" proteins is tuna, in a wrap, on a bed of lettuce, in a pita, or all by it's self, it's delish and good for me. But the one thing I don't like about tuna is the mess…. no matter how hard I try I always end up getting the tuna juice all over, yuck. Chicken of the Sea has the answered our tuna juice covered cries for help! They have released a line of "no drain" tuna!
Say Goodbye to Messy Hard To Open Tuna Cans, and Tuna Juice Covered Hands With Chicken of the Sea's No Drain Tuna
Chicken of the Sea's No Drain Tuna uses patented technology to make eating and using tuna in recipes a lot easier – that means no can opener, no juices to spill and no mess! High in protein and low in calories and fat, this new tuna is not only healthy but super convenient!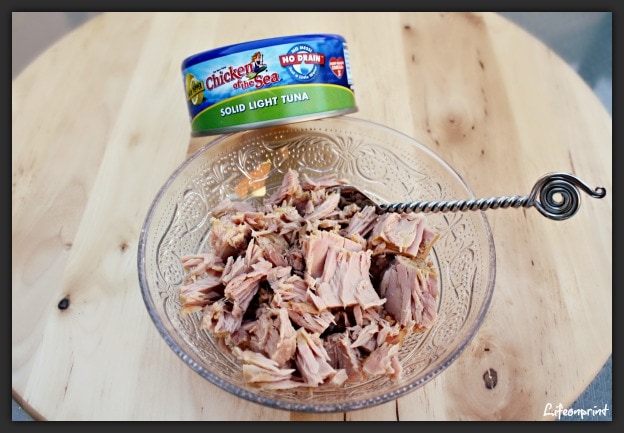 I was pretty excited about trying a "no drain" tuna, I have actually opted to not make anything with tuna at times simply because I didn't want tuna juice all over the counter or me! Seriously, no one wants to walk around smelling like tuna. But I do love the taste of tuna and I also love to cook with it, but what would a tuna without juice be like? I had no idea… so when I received the cans of tune from Chicken of the Sea I took one to open over the sink like always, just in case. I was pleasantly surprised to see that i did not need a can opener, these cans have super easy to open pop tops and I was even more surprised that when I opened the can nothing spilled on me! I got a fork and emptied the tuna into a bowel, when I did I noticed that there was about 2-3 little drops of juice that were in the bottom of the can (and not on me!) One thing I never liked about some tunas is that after squeezing out the juices the tuna always seemed so mushy… but this no drain tuna was so chunky and flaky, just the way tuna should be! So the only thing left to test was taste- supper yummy! I can't wait to try out all the great no drain tuna recipes on their site. Chicken of the Sea, no drain tuna comes in 4 varieties; solid white albacore tuna, solid light tuna, solid light tuna lemon pepper, and solid light tuna Thai chili!
My findings: Chicken of the Sea's, no drain tuna is exactly what they say it is, really good tuna without the mess! I give this product 5 stars!
You can find Chicken of the Sea on Facebook and Twitter too!