Many studies have shown that children who learn a second language not only do better on standardized tests in school, but also have advanced reading skills, greater confidence, more natural sounding accents, develop superior social skills, and it opens the door for greater college and job opportunities as they grow older. Second language learning aids in cognitive development and it actually gives their brain a boost! The gift of second language learning is a wonderful gift that all children should have access to.
Research has found that there is an age window where learning a second language comes with ease. Learning a new language at any age can be fun and rewarding but from the ages of 6 months – 6 years is the optimal learning window. It is the time where children's brains are most sponge-like and the most likely to absorb and retain a foreign language.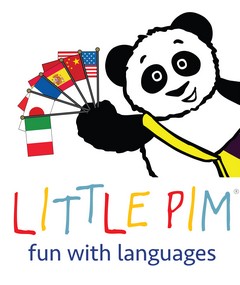 Give Your Children The Gift Of Second Language Learning With Little Pim!
Little Pim introduces second language learning in their fun and colorful Entertainment Immersion Method "which engages a child's natural love of play and learning through repetition." Little Pim was developed around the latest scientific research regarding language acquisition and brain development.
I just love the Little Pim Spanish "In My Home" DVD that i received. Little Pim is an animated Panda who guides the viewer along with his friends Bob the Cat and Lola the elephant through a colorful and engaging language learning tour of everyday words and items in your home. Along with toe tapping music and real life characters, I found this DVD to be not only easy to use but lots of fun! I watched along with a 1 year old as well as a 4 1/2 year old and they both loved it. The 1 year old laughs and watches the video intently and the 4 1/2 year old repeats every word. The video also held their attention all the way through, which is a really good sign that they will want to keep using it over and over (and they have). I think Little Pim is definitely one of the best programs out there for babies, toddlers, and preschoolers (in my opinion it's great for all ages!).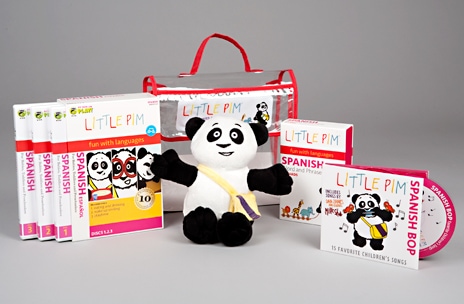 Little Pim is a fun way to learn a second language using DVDs, music CDs, flashcards, and books and is available in 10 different languages: French, Spanish, Chinese, Italian, German, Russian, Japanese, Arabic, Hebrew, and English.
I give Little Pim 5 stars for ease of use, entertaining and fun learning, and an all around awesome program! All pros and no cons with this one.