Chuao Chocolatier has some of the most unique flavors in chocolate bars that I have ever tried. I was happy to be able to try their new Orange-A-Go-Go bar, along with several other of their flavors.
Unique and Delicious Chocolate from Chuao Chocolatier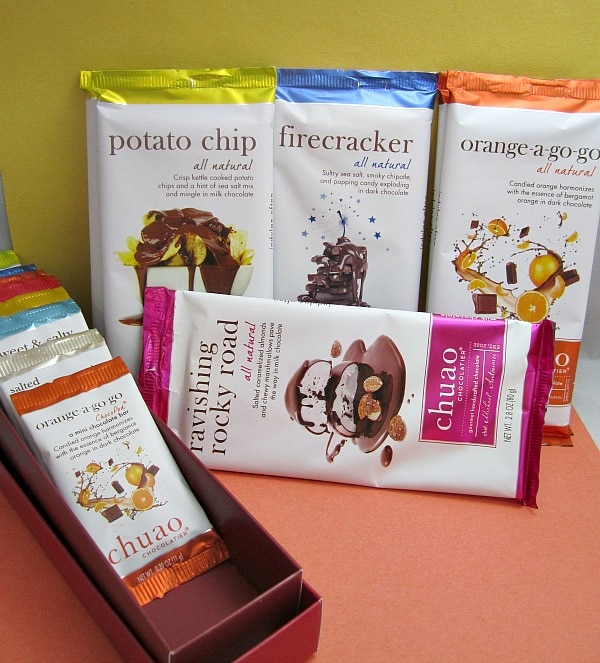 A while back I had the opportunity to try Chuao Chocolatier's Potato Chip Bar. I don't think I ever stopped thinking about it. It's the perfect medley of salty & sweet. If I am going to splurge on a chocolate bar, it better be worth it. Let me tell you that Chuao Cholatier's bars are a decadent indulgence that are truly splurge-worthy.
Pictured above you can see the mini bars, called ChocoPods which are only 50-60 calories a piece. These are perfect for me and I totally hoarded them for myself. I hid them right next to my desk and tried each flavor – except for the Maple Bacon bar – I gave that one to my uncle. I am not into this bacon frenzy that the world seems to be in!
The mini bars are a fantastic way to try all the flavors without committing to a whole bar. I know that I definitely lack the self control to not devour a whole large bar once I open it up. This way, one tiny bar is the perfect portion.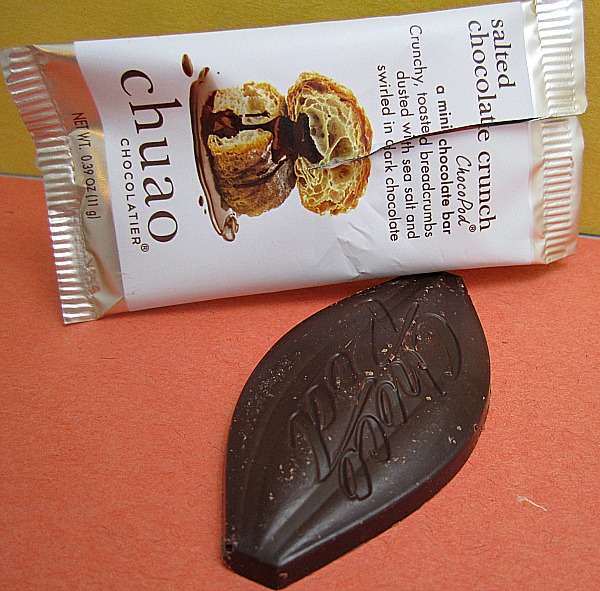 Included in our package was a box of BonBons that I gave to my Grandmother. She was thrilled to have these tasty little morsels to treat herself with. They came in a nicely wrapped box with a ribbon.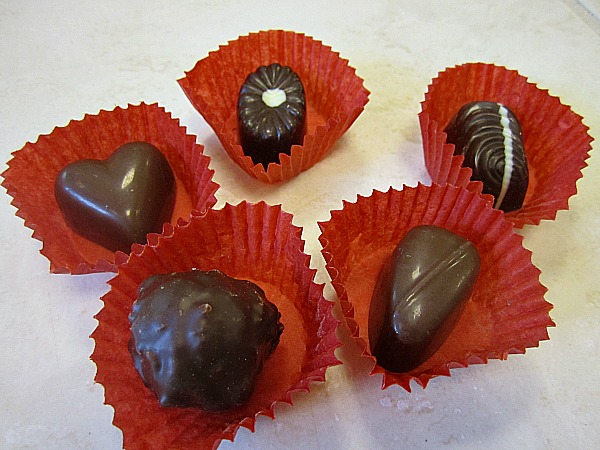 A little more about my thoughts on a few of the bars:
Potato Chip – Milk chocolate with crisp kettle chips and a hint of sea salt. Still remains my #1 favorite bar. Totally scrumptious.
Orange-a-go-go – Dark chocolate with an essence of bergamot orange. Sometimes I crave the richness of dark chocolate. It all depends on my mood. The hint of orange really sweetens this up for a delicious, fresh taste.
Firecracker – Dark chocolate with seat salt, smoky chipoltle, and a surprise explosion of popping candy! This one is a lot of fun to eat. Not only flavorful, but also an experience.
Ravishing Rocky Road – Milk chocolate with marshmallows and caramelized almonds. If I am really in the mood for sweets, I would go for this one. I let Mike have most of this one since he's not fan of dark chocolate. Boy, was it a sweet treat, though!
No matter what you are in the mood for, Chuao Chocolatier has a blend for all chocolate lovers. Their gourmet, handcrafted chocolates are the ultimate treat. Consider these bars for a unique gift idea or treat yourself.
What bar do you think sounds the best?