This day will go down in my history of days as one of the most entertaining, exciting, and surprising. Interviewing Chris Evans was an incredible honor. He was so real. I was able to have this opportunity as part of the Captain America: Civil War press junket.
Captain America, Chris Evans
It all started with Paul Bettany, actually. With about 5 minutes left in our interview with Paul, Chris charged into the room, literally crashing our interview. Best. Moment. Ever.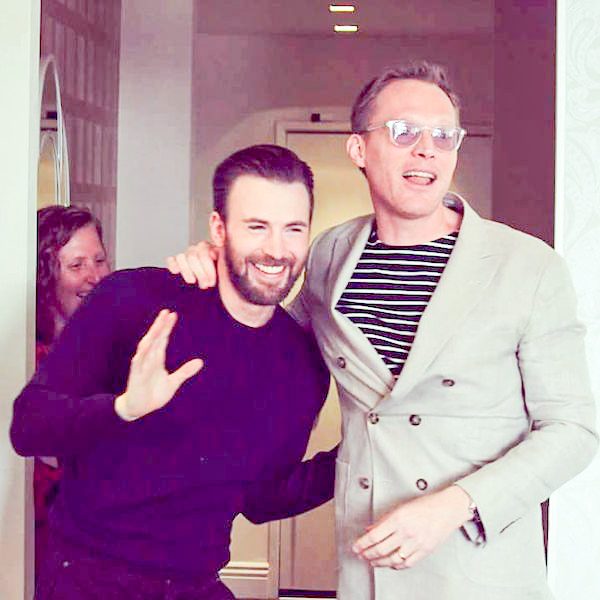 Once these two were together you could see and feel the adorable camaraderie. They both spoke of having that same relationship with the rest of the cast as well. It was like being in the same room with brothers that just got back from an inside-joke filled weekend away.
Shortly after Chris arrived, Paul had to move on to his next appointment, but that left 25 of us female bloggers alone in the room with Chris freaking Evans. I swear you could feel the 25 hearts beating as one estrogen charged blogger bomb aimed directly at the front of the room.
You certainly couldn't hear it through all the laughter though. Chris had us cracking up from the second he walked in.
Once we collected our dreamy thoughts, we were able to form coherent questions and Chris was eager to answer in ways that kept us laughing.
The Interview
Q: Do you guys play pranks on set?
Chris: On a set like this, it's not so much pranks as it is camaraderie. The truth is, we really are there to work and you don't want to diminish other actors' experiences or disrespect their process. We still have fun, like days when it's just me and Paul, we're giggling a lot more.
Q: When you put the uniform/costume back on, how do you feel?
Chris: I feel good now. I didn't in the beginning–in the beginning it was terrifying. I would worry about all the things that could go wrong and how this could be a mistake. Over the course of five or six movies now, it feels great. It really does, the Russo Brothers and Marvel and everyone have made it such a wonderful environment. It's like a point of pride, when you see the suit, you're excited to get the suit on and very honored and humbled that you get to have some sort of connection to it. Because it's bigger than you. Captain America will live on. There will be other Captain Americas, there will. It will live on a lot longer than I will. So it's just nice to kind of have a little place it its lineage.
Q: What was the hardest scene to shoot? The one with the helicopter?
Chris: Hah! My arm to this day is not the same. It's a fake helicopter obviously, but it's set up so that it can move. They did move it and it actually required–you know–me to hold it. And I really did bang something up.
It was really cute to watch him talk about working with Robert Downey Jr. You can hear the respect in his voice and how much he looks up to him.
"He's such a force. He's so good and he owns the oxygen. He comes in the room and he's powerful… those scenes where it's really just us talking–were really intimidating to make sure you want to, you know, match him. He's scary because he's so good… he's just good at anything he does.

And, he changes things on the fly so you just want to try and keep up sparring-wise–that you can kind of hang with him–so those scenes were the most terrifying. Terrifying. Yeah, I'll say terrifying."
Q: Growing up, who was your favorite super hero?
Chris: Oh, I didn't have one. I had an older sister. When I have kids, I'd love for my oldest child to be a girl, because it softens up the boy. We had a girl, me, and my younger brother. We just did whatever Carly wanted to do. My Little Pony and Care Bears. That was it. Just being in Carly's room was a big deal.
Seriously? Could Chris Evans be any more charming? He's the PERFECT Captain America on and off screen. Even his respect for women–which we now know we can thank his big sister for–shows through the big screen.
In fact, he's overflowing with respect… for everyone. When asked about how he felt when Marvel/Disney threatened to boycott Georgia if they passed the Anti-Gay bill, his response was inspiring and above all: REFRESHING.
"It was great… My younger brother is gay and he was the one sending me these texts saying 'good for Disney.' I'm proud of them for standing up to that… there are still some states that are messing up, but I was proud to be part of the Disney family during that."
Captain America: Civil War
See it in theaters everywhere May 6th, 2016!
Find out more about the film by following on Facebook and Twitter. You should probably follow Chris Evans too. 😉
Who's side are you on in Captain America: Civil War?