When Chris Pratt walks into the room this happy to see you and your group of colleagues, you know you've made it in life. Granted we are just as happy–okay, probably a whole lot more than happy–to see him. He had to have been tired from the premiere of Guardians of the Galaxy Vol. 2 the night before and having just been in Japan. But we'd never know it. He's always radiating positivity and genuine joy. Screw coffee, can I have a glass of Pratt every morning?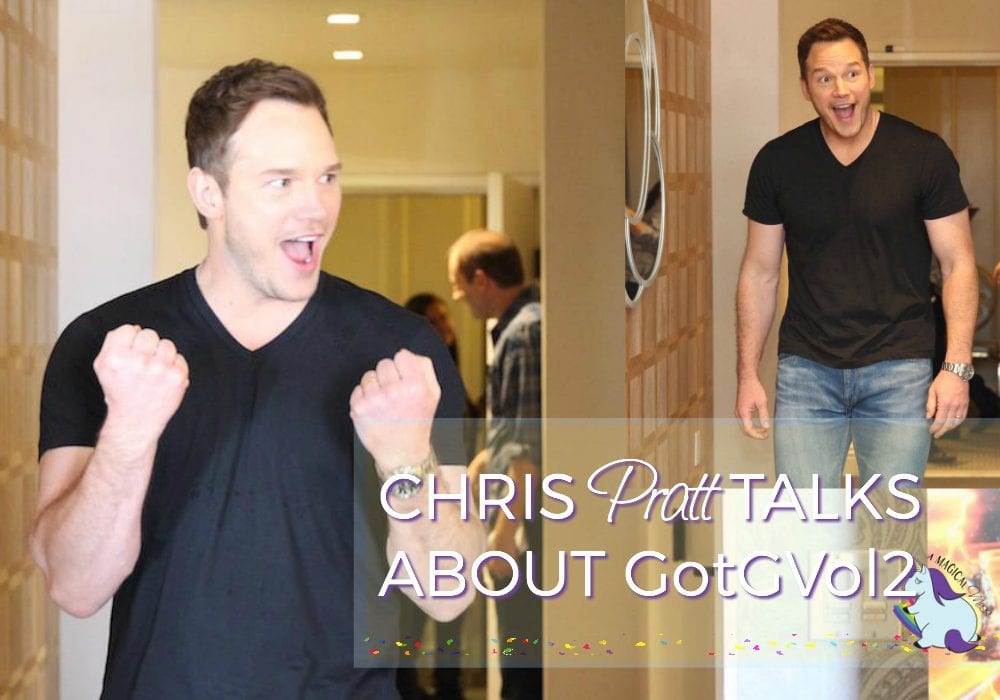 I promise to keep all spoilers out of this interview. But, we had already seen the movie so we were free to discuss all the juicy details with Chris. So, I may come back and fill some spots in after the film release.
Q: Did you use any kind of real life personal experiences to channel your emotions in this film?
Chris Pratt: "That's something for me as an actor is one of the hardest things for me to do, is channel anger, because I do it so rarely in my real life. I'm not saying that that's healthy. But I don't really do it that often. I think often times how we behave in the real world is–that type of behavior is really easy to do as an actor–for me at least. Real natural stuff.
But for me to look someone in the eye and yell at 'em… is not something I do that often. So it's hard for me to get there… So, it was actually not as emotional for me as it was kinda practical. Like creating a center, creating a loud voice, finding. James really helps me with that stuff. It's just a lot about energy, heightening your energy, and grounding it, and being direct."
Can you talk about working with Kurt Russell?
Chris Pratt: "Everyone on my team, everyone who's been hanging out with him, they're all just like, 'He's such a great dude.' And, he really is, man. I've heard a few people say, 'It really feels like you guys could be father and son.' We share a lot of the same passions. He's a really cool guy. He's a really open book. Definitely know where you stand with him. He tells ya, he tells it like it is, and I really like that.
Obviously, he's like this iconic dude, who I've known about for decades–before he ever knew I existed. And so, there's always that strange moment when you meet someone and you're a big fan–you feel like you have to tell him, because otherwise you try to build a friendship and it's a little inauthentic. So, you just say, "Listen, I have to get this part out of the way, but I love you so much! Oh, you're the best. You're the best. You've always been the best.' And he goes, 'Yeah, I know. Thanks.' …All right, let's get to it."
We then discussed a major spoiler, so I won't ruin that for you. However, you MUST go see the film in the theater so it doesn't get out before you're able to see it for yourself. It's so good. As Chris said, "This is really next level."
Q: Did any of your improv make it to the final cut?
Chris Pratt: "Yeah, I mean, James really knows my voice. Especially in the second movie, he has written the script in a way that it sounds like stuff I would improv… but there are a few jokes that I made that made it. The thing about 'if the thing between my legs had a hand…' yeah, that was me.
I remember that day it wasn't that funny. It was just like we'd done that scene a bunch of times, and they had to do it again because they needed to get something else. So, I knew they already had whatever the line was that was written…That's my room to play.
I say 'You're gonna throw this take away anyways, I'm just gonna do whatever I want. And that's what I said. He was like, 'Yeah, yeah, yeah… it wasn't that funny.' And then he put it in the movie." [Everyone is dying laughing.]
Q: What is Peter Quill's favorite snack?
Chris Pratt: "Peter Quill's shirt in the movie, that's his favorite snack, because that's actually a label from–this is a little Easter egg–but from the first movie, there was some candy on the table, and I think I'm eating some of the candy. I don't know if they ever made it in the movie, but James really loved the label. The art department had gone great lengths of creating this language, and created a label for some candy. So, he put that label on the shirt. So, that's a snack that Peter Quill likes to eat."
And yours?
"I'm like a cheese and crackers and Crudités–that kind of thing. Like cheese, crackers, mustard. I could live on that. I'd get fat… and Doritos– with my face on it I should say."
Q: Speaking of diet and fitness, how do you stay in shape?
Chris Pratt: "If I'm gonna be fully authentic, I'm pretty careful about when I reveal myself to the public. I do it in a way to make you think that I've kept it off the entire time, but I haven't. Seriously, like I keep kinda tight, close to what I need to be, but I have to live my life as well. So, when I do a shirtless scene, or I do a magazine cover, or I do a photoshoot that I know is going to get a lot of press, I dial it in so that I can take a good picture. All my eating habits and diet/fitness habits are–it's very shallow of me–but hey, they're very much based around how I going to put myself out there. So, don't be hard on yourself if you can't–if people lose weight and they can't keep it off. That's just really natural. I think the best thing, the best way to think about it is not to have a weight goal… My goal isn't 225 pounds. My goal is six months. Six months of consistency. Go to the gym, or do something everyday for six months. See if I can do that. Make the goal, a consistency. Like build up a bunch of consistency and make it more of a lifestyle…
I just did it a couple weeks ago where I had a photoshoot for Men's Fitness and I made that my goal. Then like three days, I swear, I worked hard for weeks and weeks and weeks, I got in great shape. I felt good. I did the photo. And like three days later I put on like 20 pounds. Just 'cause I was so goal oriented. 'Cause then you hit that goal and you're like 'nailed it, let's eat', just a little bit, and then like six weeks have passed and it's like, 'What did I do?! Why did I do that?' So, it's natural to kind of go up and down."
He's so down to earth and genuine. Everyone can relate to that struggle and it's so refreshing to hear him talk about it. We then talked about how he stays so authentic and where his philanthropic nature comes from and one of the bloggers referred to him as the 'Russell Wilson of Hollywood':
Chris Pratt: "You know, I actually credit Russell Wilson. I think I saw how he did it, and I was like, 'this guy's awesome.' He's open about his faith. He is a superstar quarterback, and I have a pretty healthy and not that secret man crush on him. But, I saw how he did it, and what he did up at Seattle Children's Hospital. I remember around the time that I got Guardians of the Galaxy, I remember thinking to myself, 'if this thing does what it could potentially do, and there's a world where it would mean something for me to go do that, I'll definitely do it.' And I get that from Russell Wilson, but I think if I credit Russell Wilson, he wouldn't take the credit. He'd give the glory to God, he would say that it was his faith. So, I think it's the same kind of thing. I really love how he does it and I have to credit some of that with him."
Moms always get asked how they balance it all. But you're a great dad, and husband–so how do you do it all?
Chris Pratt: "Thanks for asking me that question. That's a good question. I know Anna gets that question all the time, and she's like 'How come no one ever asks you that?' I think it's not easy. It's a lot of communication. We have help. We have to plan everything. You manage it by just making sure everyone is doing what they need to be doing. You check in with everyone. And I have a staff of people who work for me, and it's their jobs to make sure that spending all my time–If I did, do all the administration in my life, I'd never have time to do anything. Like I told Alison, my publicist, I'm like a parcel. I don't even travel, I just get shipped everywhere. So, I don't do any of that stuff. I just focus on what I can do. But I think you don't have to be present to be a presence. With technology now, FaceTime, little tricks, little things like that. Checking in every day, nurturing your relationship with your spouse, and not making it just about the kids is important. We were just in London, and I hadn't seen them in a while, but they got to come visit me, and stay with me for a few weeks. But we took a weekend trip for ourselves to go to Paris, and left Jack behind. And as much as we were, when we were there, we're like, 'God, it'd be really fun if Jack was here.' But it was good for us to be out there by ourselves, and do that. I think just prioritize and work on, make lists, and probably you're gonna fail. Some of the time. You know? Just do your best."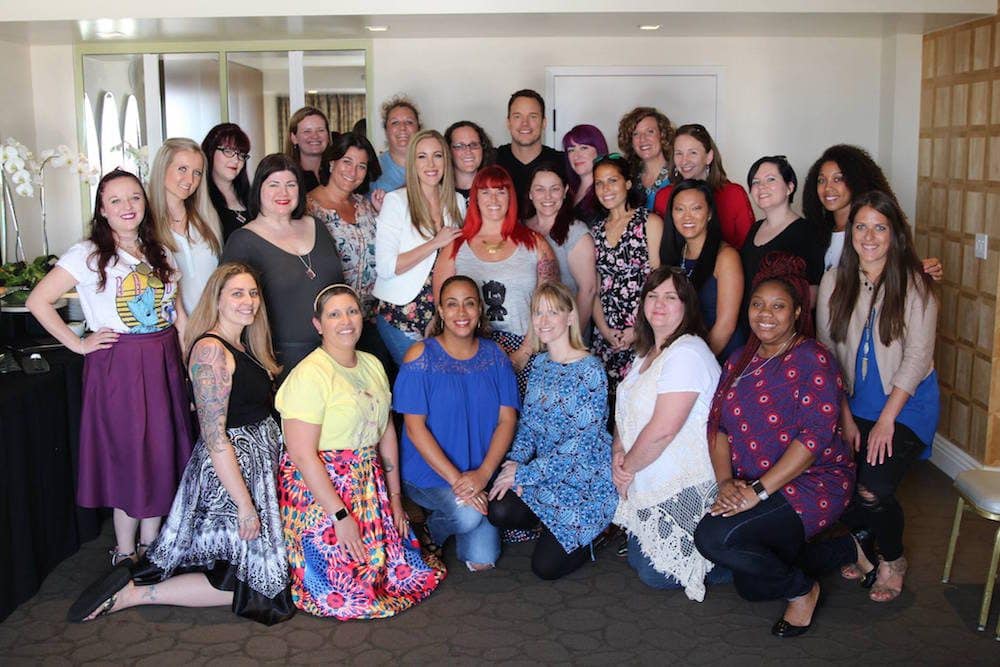 Read our interview with Chris Pratt while on set in Atlanta!
See Guardians of the Galaxy Vol. 2 in theaters everywhere May 5th!