I am not a huge fan of cleaning. Don't get me wrong, I like having a clean house; I just don't like the process of getting there. CLR is famous for their title product (CLR – Calcium Lime and Rust), but they have a bunch of other offerings. I received a variety of their products to try out, and I am excited to share with you some of the results.
CLR Solves Tough Cleaning Problems
Before this, the only product I had tried from CLR is one of my favorite cleaning products — their yellow bottle, the Bath and Kitchen spray. The main reason I liked it was that I can spray it on the stainless fixtures in the shower that are all limey. I let it sit, rinse, and then it is shiny again…without even scrubbing!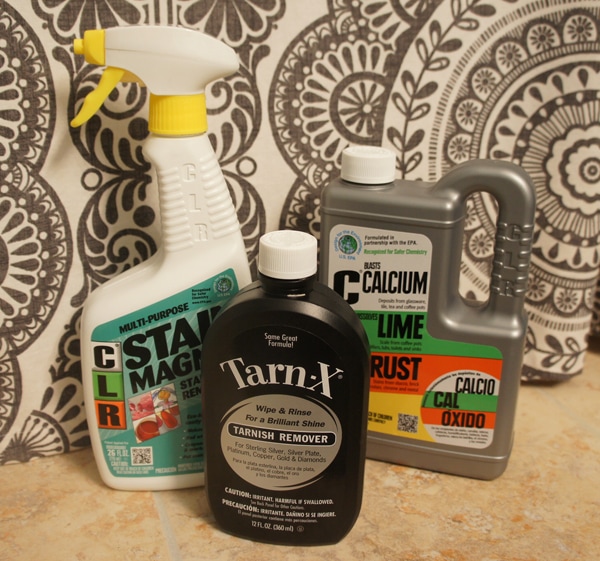 A powerful step up from the kitchen and bath cleaner is the original CLR Calcium, Lime, and Rust Remover – it helps remove calcium, lime, and rust stains from tubs, toilets, sinks, glass, chrome, fiberglass, coffee makers, and so much more. Most important, it removed the rust stains left in the corner of our bathtub, a result of a shameful habit I have of leaving my bobby pins behind when I take them out of my hair while in the shower.

CLR Stain Magnet is an all-purpose, multi-surface stain remover that removes tough stains from a wide variety of surfaces from walls to fabric to brick to hard plastics. The Stain Magnet will remove spots from nail polish, oil, red wine, ink, crayon, and permanent markers and, even better, it is an eco-friendly formula.
You can find out more about CLR's line of products on their website and make sure to check out the Where to Buy section on their site to find out where you can find their great line of products.
What area in your house could use some CLR?