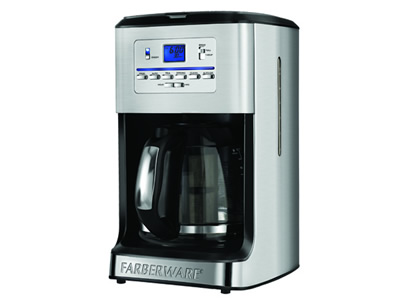 Farberware 12-Cup Programmable Coffee and Tea Maker
Life without coffee would be impossible for me. I don't usually have more than 2 cups a day, but still, without those couple cups, I just don't know what I would do with myself. And, because I load my coffee with cream and sugar and therefore calories… I've recently discovered the joy of drinking tea. I usually drink tea plain so it's virtually calorie free! Product was received for review purposes and this post may contain affiliate links.
This machine really has it all. It's 2-in-1 which saves space in my already cluttered kitchen, plus the cord has a built-in spot so it's not an eye sore on the counter.
It's programmable… Need I explain the brilliance of that?
So far, anything that comes out of the Farberware Coffee and Tea Maker tastes fantastic. It has a water-filtration system (little replaceable carbon filter) that makes all the difference in the world! I have Chicago water which is pretty great. But I still use a pitcher with a filter for my drinking water but wasn't going through the hassle of using that water to make coffee. I never really thought about how that could be affecting the taste. Well, I will never go back! I always wondered why it is so hard to compete with the robust flavors of coffees from places like Starbucks or Dunkin Donuts. Now I can make that at home! And I'm not even using fancy expensive grounds!
Another great feature is the adjustable cup brewing amount. Because it is usually just me, I don't have to worry about wasting a ton of coffee because I have to make a whole pot to get the flavor right. There is a little button that allows you to select 1-4 cups as a brewing option. It extracts the flavor of the grounds by adjusting the speed of the drip. You get maximum flavor!
It also has a permanent filter so I don't have to worry about wasting money or running out of paper filters!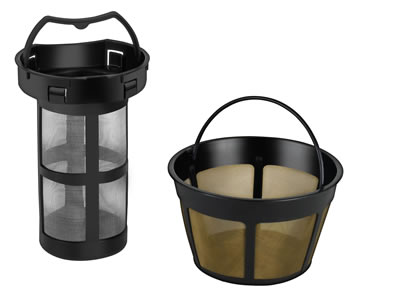 Loose tea leaves? Never even thought about them. OMG. It's like I've been introduced to a whole new world! The flavor is indescribable. I am now obsessed.
Ok, so just when I was thinking that this wonderful little appliance couldn't get any better… It has auto-clean! AND, the warming plate is nonstick and stain resistant! That potentially hideous looking warming plate is why I have ended up replacing all my other machines. Over time they can get so grimy… not on this bad boy!
Oh, and don't let me forget the freshness feature. It tells you how long ago the coffee was brewed. So there are no unpleasant surprises with getting that stale, brewed a week ago-tasting coffee or tea!
Other features include: dishwasher safe parts, adjustable 1-2 hour auto shutoff, brew strength selector for full, regular or robust flavor, 12-cup Duralife® glass carafe with Perfect Pour® spout, Sneak-A-Cup® feature allows for quick, on-the-go pours while coffee is still brewing, and a 3-year limited warranty.