A few moms and I have started "Coffee Break Mondays." We host a coffee break on Monday morning alternating houses each week. We make sure it only lasts one hour so that we can all still get our stuff done. Plus, this way no one over-stays their welcome and we are always looking forward to Mondays! 🙂
Jodi hosted it the first time around. She did a fantastic job and lets just say a bit of friendly competition has resulted…
She made this awesome gourmet-looking (and tasting) coffee… topped with homemade whipped cream and chocolate shavings.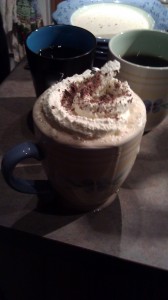 She also made blueberry crumble and a chocolate zucchini cake! OMG YUM!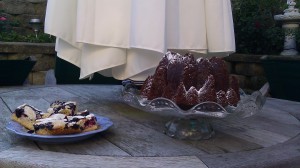 We were having fantastic weather so we sat outside. Joey the cat made himself right at home on the seat next to me!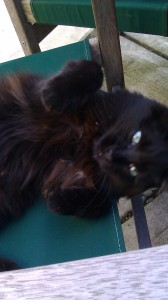 Then, he decided he wanted to be the center of attention by becoming the centerpiece!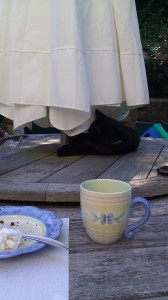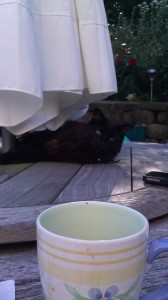 Needless to say, after such a great display and performance by our host, Jodi, we were all under a bit of pressure to measure up to these coffee break standards! Luckily, some great companies, offered to help me on my mission…
Huge thanks to all of the following: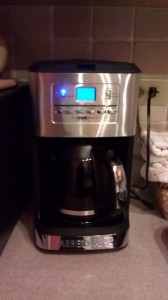 Farberware for this great Coffee and Tea Maker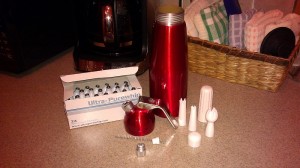 And Whip Rite to make the best homemade whipped cream EVER.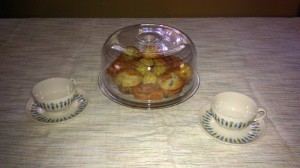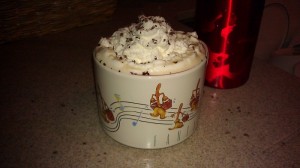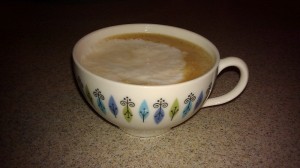 and ESPRESSO!!! 😀