Colds, cough, snot – ick! It is getting to be that season again, and I don't know that I could ever be ready for it. As you stock up your medicine cabinet – make sure to check out the new products from Ricola. They sent me some for review so I can make sure I am ready when the sick season comes to our house!
Natural Cold Relief with Ricola
Chruterchraft is Swiss for Ricola's secret blend of 10 herbs found in every cough drop. All of their products are created using naturally cultivated farming methods and contain no pesticides, herbicides, or artificial coloring and flavors. Chruterchraft stands for something though – find out more at their website or watch this fun video (seriously, it's pretty funny!). Just a hint: Chruterchraft is relief, enjoyment, sustainable good, and so much more. In the Ricola product line you can find Extra Strength – featuring a Natural Menthol center, Original, Swiss Cherry, Honey Herb, Honey Lemon, Cherry Honey (yum!), Lemon Mint, Mixed Berry, and Dual Action Cherry. Ricola also has two Sugar Free options if you are watching sugar intake.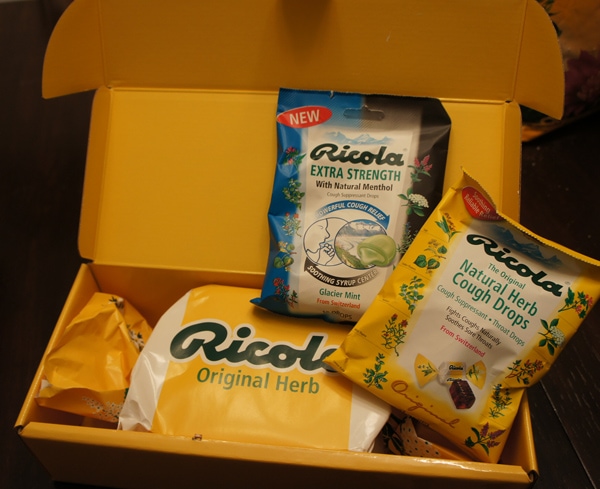 We like Ricola at our house because they are a brand that has been around for awhile, but make great choices in tradition, sustainability and more. They want to give back as much as they can, beyond the cold relief their products provide customers. We also like them because they can provide throat pain relief in just one drop. I am not a fan of the strong menthol flavor (I know it is stronger, so it helps more, but I prefer my berry flavored mixes) – so the mixed berry and the cherry honey are a great solution to help me find relief when I am suffering from a cold.
Make sure to look for Ricola on your favorite social media outlets – Facebook, Twitter, and YouTube– and in your local store as you stock up for cold and flu season.