Cook'N Recipe Organizer Software
My recipes are all over the place! I have them in books, boxes, random bookmarks on my web browser… it's really just dumb. Product was received for review purposes and this post may contain affiliate links.
When I received this Recipe Organizer software for review I was excited, but also dreading, the huge task of getting all my beloved recipes in one place.

Getting started with Cook'n was easy because I watched their 'overview' video first. The first thing I fell in love with about this product is all the support for it. Any questions I could come up with had answers with video responses on their site.
Then, it was all so easy. Once I got the hang of it, recipes were just flying into my own virtual book. My newest obsession is stealing recipes from Pinterest. I spend lots of time drooling over all those yummy pictures and now I can organize them all into my book and actually make them.


What I love most about this software is that it is really like having 5 products in 1. It's an electronic cookbook, recipe manager, menu planner, grocery list generator, and personal home nutritionist.
What a time saver! I make a menu for my week, print out my grocery list, and know exactly how many calories I will be consuming! And each of those steps are customizable! For example, I'm a calorie counter, but you can make it count whatever you want… carbs, protein, etc. And, it calculates the nutrition information of the recipes on it's own! I was scared that I would have to manually input all that… but all you do is hit the "nutrition" button, and BAM! It's all there!
I have a goal of printing a Family Recipe Book and giving one to all my family members. What a great gift! This program makes it so easy to print your recipes on cards or pages.
I'm especially enjoying the newsletter as well. I've already "captured" a few recipes from it!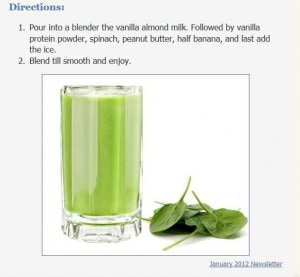 I don't even know how to explain how truly awesome this program is. I highly suggest watching this video so you can get a grasp of it for yourself…