Cranberry Naturals Reduced Sugar Juice
Many of us are still working on our 2012 resolutions to eat healthier and watch our calories. Cranberry juice is a great drink with proven health benefits, but can also be a source of extra sugar and calories. Old Orchard Cranberry Naturals offers tasty fruit juice but without all the calories and sugar! Product was received for review purposes and this post may contain affiliate links.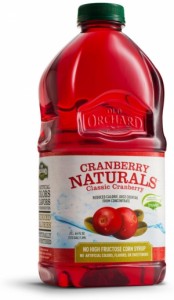 Here are some nutrition details about Cranberry Naturals juice:
Has 40% less sugar
Sweetened with Truvia
No artificial colors, flavors or sweeteners
20% more real cranberry juice than leading brand
All the benefits of cranberry juice but far less sugar/calories
I received the Classic Cranberry and Cranberry Apple juices to review. These were refreshing drinks that I enjoyed with breakfast or after working out. I didn't really detect any flavor difference between this juice sweetened with Truvia and other brands, so the reduced calories and sugar didn't noticeably affect the taste. I also appreciated that the juices are all natural – no high fructose corn syrup, artificial sweeteners, or artificial colors or flavors.
Truvia is a sweetener made from the leaves of stevia plants, so it comes from a natural source but has zero calories. Cranberry Naturals all natural juice has 6 flavor varieties: Classic Cranberry, Cranberry Apple, Cranberry Blueberry, Cranberry Grape, Cranberry Pomegranate, and Cranberry Raspberry.
Based on my review, I know my family would enjoy Old Orchard Cranberry Naturals juice again! It's a nice option for those of us who are watching our waistline but don't want to compromise on taste.