Cute baby animals can just make my day. I have been a fan and loyal subscriber of ZooBorns.com for a while now. I look forward to my daily emails of cuteness. Now they have a few new, adorable books to *squee* over, too! Product received for review. Post contains affiliate links.

Cute Baby Animals from ZooBorns
Baby animals get a lot of attention across the web. You can find loads of them on Pinterest, YouTube, and all social media sharing sites. People just go nuts over them. They even have plenty of television shows devoted to these tiny creatures. Personally, I cannot get enough of them. That is why I jumped at the chance to review the new books from ZooBorns. Turns out that baby animals make excellent ambassadors for helping educate people on important issues, as well.
Andrew Bleiman and Chris Eastland are two talented and dedicated guys. Not only do they get to photograph baby cuties all day, but they are also helping to spread awareness of serious issues that are putting precious species and their habitats in danger. In fact, a portion of the proceeds from ZooBorns book sales goes to the AZA's Conservation Endowment Fund. Oh, and Andrew Bleiman serves on the Auxiliary Boards of the Lincoln Park Zoo and Shedd Aquarium in Chicago – by me!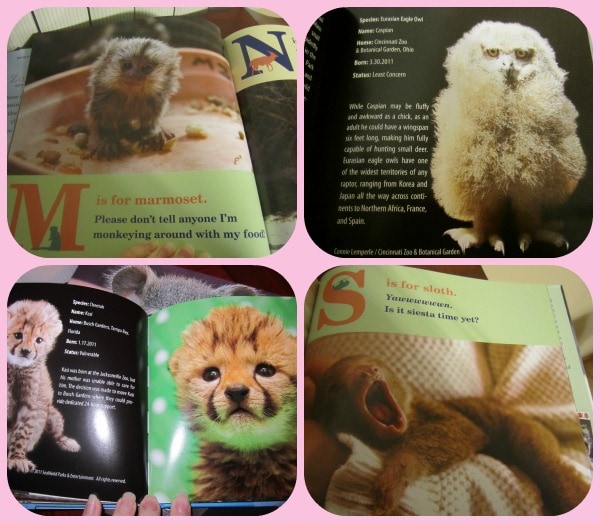 I received both of their new books: ABC ZooBorns! and ZooBorns The Next Generation. The first one is designed to help little humans learn their ABC's. Honestly, the pictures are so darn cute that I think this book can be for anyone! Parents, this has to be the cutest way to teach your kids. Each letter has its own baby animal and a cute saying that will help the child remember the letter, and even a little tidbit about the animal for some of them.
In the second book, ZooBorns The Next Generation, you will enjoy lots of pictures of adorable baby animals. What you will also find is details on the animal, like the name of the species, where they live, their status on the endangered list, and other interesting facts. As happy as this book makes me, it's also a sad reminder about how a lot of these animals are in fact endangered.
ZooBorns knows how to capture cute, alright! I am very excited to own these books and highly recommend them as gift ideas for your loved ones. Everyone should also subscribe to ZooBorns all over the place, so you don't miss a thing! Visit their site, like them on Facebook, follow on Twitter and on Pinterest.


All of the ZooBorns books can be purchased at Barnes & Noble and Amazon.com. And don't forget that all purchases also support a good cause.
What is your favorite baby animal?