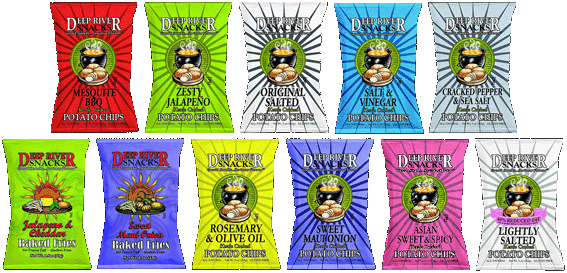 Deep River Snacks
What do you reach for when you get the munchies? I bet quite a few of you will say potato chips. Although I have quite a sweet tooth, I am definitely known to destroy a bag of chips or 5 from time to time. Deep River Snacks has quite the variety of flavors to choose from. They have nine different flavors in their kettle-cooked potato chips alone! That's a lot to choose from. They do not stop at potato chips either. They also have four flavors of tortilla chips, two types of baked fries, AND white cheddar popcorn! Get ready to be jealous because we got to try it ALL! Product was received for review purposes and this post may contain affiliate links.
When it comes to food reviews, you usually don't know exactly what the company will send as far a samples. Some companies are far more generous than others. Well let me tell you that Deep River Snacks blows them all out of the water! Not only did they send each and every type, flavor and variety of snack that they make, but they sent several of each! Four huge boxes of snacks! This was perfect because Mike started grabbing bags and running right away. Usually I have to tell him that he has to share so I can write the review! But, this time there was enough for a small army.
~~~ The chips are All Natural, Cholesterol and Gluten Free, Kosher and Hand Cooked in Small Batches. The products DON'T Have Any Trans Fat, Partially Hydrogenated Oil, MSG, Artificial Flavorings, or Artificial Preservatives. They DO However, Have GREAT TASTE!!! ~~~
Each bag is extremely fresh and flavorful, but let me highlight some of our favorites:
Rosemary + Olive Oil:  I figured I would like this one, but it is Mike's favorite, too. What a tasty flavor combination. Nothing is too overpowering, just balanced deliciousness.
Reduced Fat, Lightly Salted:  Okay, these are my favs! Obviously because I can grab a bag with less guilt, but also because they are a crunchy, satisfying treat. Sometimes I think chips are too salty, so I prefer the lightly salted version. As long as I can control myself and stop at the one smaller bag, it's only 190 calories. A perfect, portioned munchie.
Sharp White Cheddar Popcorn:  This is what Deep River started off making and how they became famous. All natural and intense flavor. Just what you need during a munchie attack!
Tortilla Chips with a Hint of Salt:  We used these for dipping into some salsa we received (you will see in an upcoming review) and they were just right. To me all you need is a dash of salt when eating the chips along with a dip or salsa. If there is too much salt, you miss out on the other flavors.
Mesquite BBQ Baked Fries:  I love that the entire bag is 100 calories. The shape and texture makes them fun to eat and the BBQ flavor is very tasty.
We thoroughly enjoyed the assortment of Deep River Snacks that we received.


What is quite possibly the coolest thing about this company is how actively involved they are with charities. They are so enthusiastic about giving back that each flavor is connected to a different charity. How fun! So, when you purchase the Original Salted bag of chips, you are helping The Christopher + Dana Reeve Foundation! You can see all the different charities they support on their giving back page.