Now that Delivery Man has officially opened in theaters, I can finally share my thoughts on it. Back in July I was able to see an advanced screening of the film at no cost. All opinions are my own.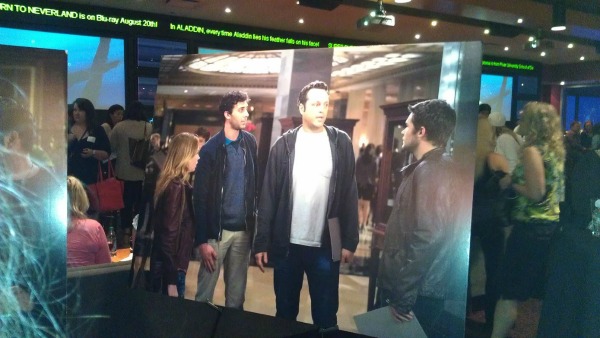 OFFICIAL BOILERPLATE:

DreamWorks Pictures'"Delivery Man" stars Vince Vaughn as affable underachiever David Wozniak, whose anonymous donations to a fertility clinic 20 years earlier resulted in 533 children. David must now embark on a journey that leads him to discover not only his true self but also the father that he could become.


A DreamWorks Pictures and Reliance Entertainment presentation, the film is written for the screen and directed by Ken Scott, based on "Starbuck," the original screenplay written by Ken Scott and Martin Petit, and also stars Chris Pratt and Cobie Smulders. "Delivery Man" is produced by André Rouleau and executive produced by Ray Angelic, Scott Mednick and Mark Sourian.

The film releases on November 22, 2013.
Delivery Man
I am a huge Vince Vaughn fan. Him starring in a movie immediately makes me want to see it. I love his sense of humor. Although this was a slightly toned down version of his usual style, there were still many laughs by all. There are just as many heartwarming moments, and I got a little misty a few times, too. It was nice to see this tender side of Vince Vaughn.
Can you even imagine being told that a sperm bank made a whoopsie and resulted in you (or your significant other) having 533 biological children? I surely cannot. I was a little unsure of which way this plot would take the storyline. Some of it was a little predictable, but there were definitely some surprises thrown in, as well.
Since I saw this movie back in July during the crazy BlogHer mayhem, I could use a refresher. I cannot wait to have a date night with the hubby to go watch it again. I think he will find it as entertaining as I did.
On another note – Chris Pratt is awesome. I thought he was hilarious and definitely someone to see more of. I thoroughly enjoyed each member of this cast.
Make sure you see Delivery Man in theaters now. While you're there be thankful you don't have to pay for your 533 children's admission and treats. 😉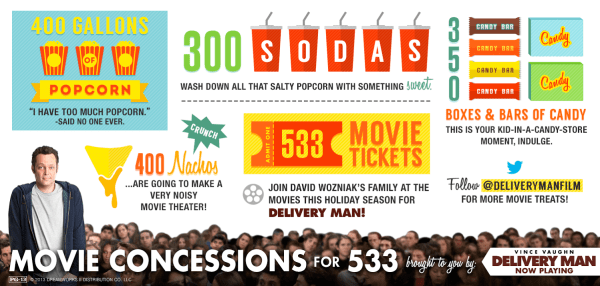 Get It Here
&
Have you seen Delivery Man yet? How did you like it?