Dermalogica Skin Kit – from Dermstore
For as far back as I remember, I can hear my mom's voice talking about the importance of taking care of good skincare. When I was young I took care of my skin to make her happy, but as I got older I began to see what she was talking about, my skin never lied about whether I had been taking care of it or not – it always showed. Product was received for review purposes and this post may contain affiliate links.
Although I'm sure we can all agree on the importance of taking care of our skin, let's face it not all skincare products are created equal and shopping around for the best products for your  individual skin can be a daunting task. But not any more! I am so pleased to introduce you to Dermstore "Your prescription for all things skin and beauty"  your one stop shop for total skincare.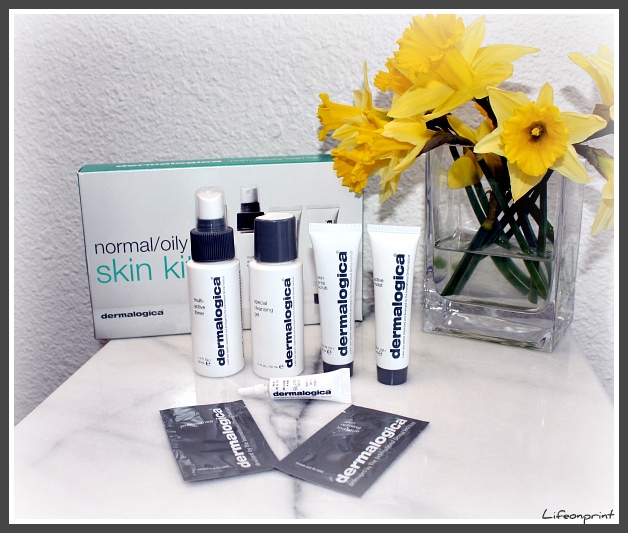 Dermstore has so many high quality, popular brands to choose from,  I chose the Skin Kit, for normal to oily skin, from Dermalogica for my review. Dermalogica offers a complete line of personal-use skin care products that can help with skin concerns such as acne, aging and dryness and comes highly recommended by estheticians and spa-based skin care professionals worldwide. I have friends who swear by their products for great looking skin, but I needed to test it for myself.
What the Skin Kit includes:
Special Cleansing Gel
Multi-Active Toner Mist
Skin Prep Scrub
Active Moist
Total Eye Care with SPF 15
PreCleanse (sample) and Skin refining Masque (sample)
I have been using this kit for almost 3 weeks now and I love it! Dermalogica helps my combination skin by controlling the oily parts of my face while hydrating the other areas, allowing for more balanced skin. One thing I really love about these products is that they last. I was very surprised at how little of the Special Cleansing Gel I needed, the smallest amount covered my face, neck and chest area. Other products I have tried in the past run out so quickly because I had to use a lot more product to feel like it was working. I really liked the way my face felt after using these products, especially the Skin Prep Scrubs and the refreshing Mulyi-Active Toner, my skin felt smooth and fresh! I totally recommend Dermalogica products and their Skin Kits are the perfect way to try them!
 Dermstore really is an amazing online shop, where you are sure to find exactly what you are looking for and then some!
Dermstore offers…
over 600 brands, including physician-strength formulas and hard-to-find specialty brands
free shipping on all orders all the time
free samples with every order
Dermstore is a 5 year Bizrate Circle of Excellence Award Winner for Customer Satisfaction
licensed estheticians on staff reviewing products and personally answering questions submitted by our customers
Dermstore was founded by a Board Certified Dermatologist
only sell products that are 100% authorized by the brands we carry, which means they are real, safe, in code and certified by the manufacturer!
24/7 Customer Service
I give Dermalogica and Dermstore two total thumbs up for amazing-quality products that really work, free shipping, brand availability, one stop shopping, a fantastic site, and choices, choices, choices!!
You can also find Dermstore on Twitter, Facebook , and Pinterest!