Designs by Lolita Love My Birthday Month Wine Glass
Let me begin by saying that I have recently become infatuated with wine. I think, when I was a bit younger, the only wine I ever tasted was the cheap (and boy am I talking CHEAP) stuff that is honestly just terrible and can easily give wine a bad name when, if provided with a better version, could just as easily become the love of your beverage life. That being said, I have to admit how thoroughly excited I was to be able to review such a fabulous wine glass from Designs by Lolita- and I don't use the term 'fabulous' lightly. These wine glasses- or rather all hand painted items on the Designs by Lolita site- are anything but ordinary, and provide a rather decadent feeling to any moment. Product was received for review purposes and this post may contain affiliate links.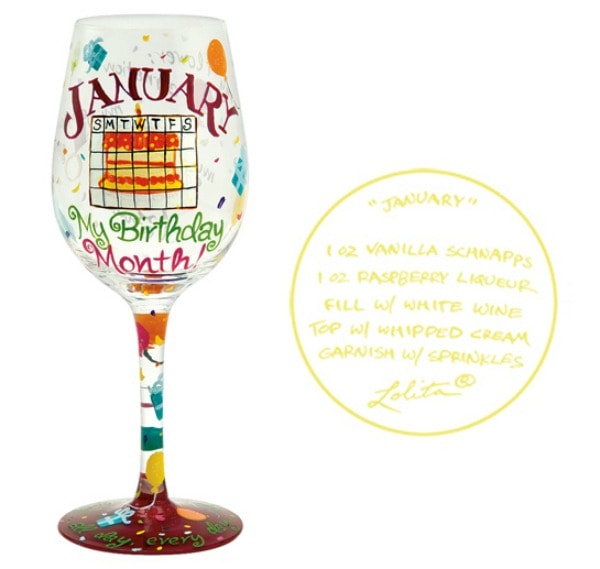 Specifically, the January Love My Birthday Month Wine Glass that I received went above and beyond my expectations. Not only is the 15 ounce glass itself truly beautiful, but even the signature gift box it came in- which is fitted for the glass, so can be easily used for continued storage- was decorated with the same distinctive designs. The January Wine Glass was bedecked in birthday-month-specific images, like my birthday month gemstone (garnet!) and flower (carnation!). It also featured a calendar, cake, confetti, and various fun quotes and sayings! And- in my opinion the neatest aspect of all- there was a special birthday month recipe written on the bottom of the glass! Mine featured the "January" wine cocktail, made with vanilla schnapps, raspberry liqueur, white wine, whipped cream, and sprinkles! How fun is that?!


The individualized and intimate nature of these items is what makes them so special. The only way to revel in the unique and handcrafted beauty that is found on the gleaming glass of all of Lolita's products is to order one and see for yourself. You will not be disappointed! Start by heading to the Designs by Lolita website to browse through the impressively wide variety of available items, and begin your own collection of hand painted Lolita products!