Detour Lower Sugar Bars
15 – 30 gramsProtein

Up to 83% less sugar than original Detour flavors

High-quality Whey Protein

Award-winning candy-bar taste

I was thrilled when I heard that Detour was coming out with a new lower sugar bar in a smaller size. I have had the bigger bars in the past and thought they were delicious, but they were too big and too high in calories for me. When I want to drop some pounds, I find maintaining a 1200 a day calorie count consisting of mostly lean protein works quickly for me. With the new 43 gram bar, there are significantly less calories so I can work one in as a very satisfying snack!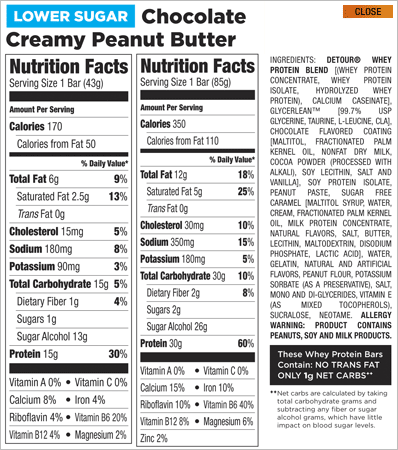 You can see the difference between the two sizes of bars.

Let's talk about the taste…Oh. My. Yumminess!!! I received two flavors of bars to try out. The Peanut Butter Cream is just to die for. Seriously, it tastes like a Reese's Peanut Butter cup and just melts in your mouth. Sometimes I notice an aftertaste with protein bars and I do not experience that with these bars. Just pure deliciousness. I have to control myself not to grab another one after I eat one. But, if I just drink some water and wait a minute, I find that I am completely satisfied with one. I definitely look forward to having one each day, though! They are such a treat!
I also got to try the Cookie Dough Caramel Crisp, which is also extremely tasty. I love the crunch-factor and the cookie dough taste. The peanut butter remains my favorite, but I will keep these on hand too, to switch it up a bit.
I am going to be keeping a lot of these bars on hand! It's so easy to just toss them in my purse, gym bag, desk drawer and anywhere else handy. That way if I ever get a chocolate craving or just need a snack, these bars work excellently at providing a filling and satisfy treat. With 83% less sugar than the regular bars, I will probably see even better results on the scale. Yum Yum YUM!!!