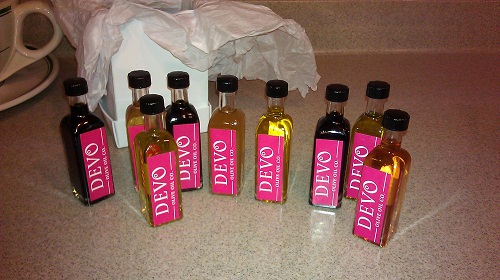 Devo Olive Oil 9-Pack Sampler
Find them on the web:
Website

Facebook

Twitter

My Review: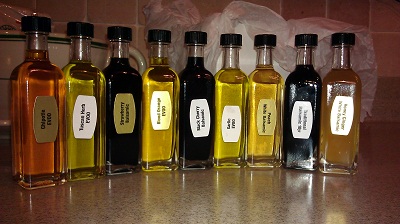 For review, I received the Devo Olive Oil 9-Pack Sampler, which includes: Tuscan Herb EVOO (Extra Virgin Olive Oil), Roasted Garlic EVOO, Chipotle EVOO, Blood Orange EVOO, 18 year Traditional Balsamic, Strawberry Balsamic, Black Cherry Balsamic, Peach White Balsamic, and Honey Ginger White Balsamic. (And, he threw in an extra Roasted Garlic EVOO for me too!)  🙂 Product was received for review purposes and this post may contain affiliate links.
Each one of these gorgeous little bottles contains a very high quality oil or vinegar. The sky is really the limit with what you can come up with for these great tasting ingredients.
I've had so much fun playing with all these delicious flavors! I added a dash of the Roasted Garlic EVOO to my mashed potatoes and it was fantastic! I also made a mixed baby greens salad with egg white, strawberries, blueberries and red onion and drizzled a combination of the Strawberry balsamic with the Peach White Balsamic. Whoa! That was one good salad!
I'm also a huge fan of making my own marinades. Tilapia is by far my favorite. I marinated a few Tilapia fillets in the Honey Ginger white Balsamic and Black Cherry balsamic and threw them on my George Foreman grill. It was the most delicious meal and it took me less than 10 minutes to make! (That's not including the 1 hour to marinate.)
I am planning to try a lot of the recipes they have on their site as well. Some of these sound like real award winners! I'm also thinking these would be perfect teacher gifts!
For this particular set they've suggested these pairings:
"The Italian Wedding" (Tuscan Herb EVOO and 18 year Traditional Balsamic)
"Big Willy Sauce" (Chipotle EVOO and Black Cherry Balsamic)
"Tiger's Blood" (Blood Orange EVOO and Honey Ginger White Balsamic)
I just have to add, that this site is one of the most beautiful I've ever seen. The photography is simply gorgeous and brings the flavors to life in your mouth. The layout is clean and crisp. This was a real pleasure! I highly recommend visiting this site and trying these products!