Having worked in an office most of my life, I like to digitally organize using Microsoft Office. Thanks to my partnership with Lunchbox, I now know of more affordable options for home. This is a sponsored post, but all opinions are my own.
Since I am almost 100% working from home now, there are some things that I tend to miss from the office. The full Microsoft Office line-up being one of them. Up until now I couldn't really justify spending the big bucks on purchasing it for my home use. So, I am super happy to Say Hello to Office 365 Personal.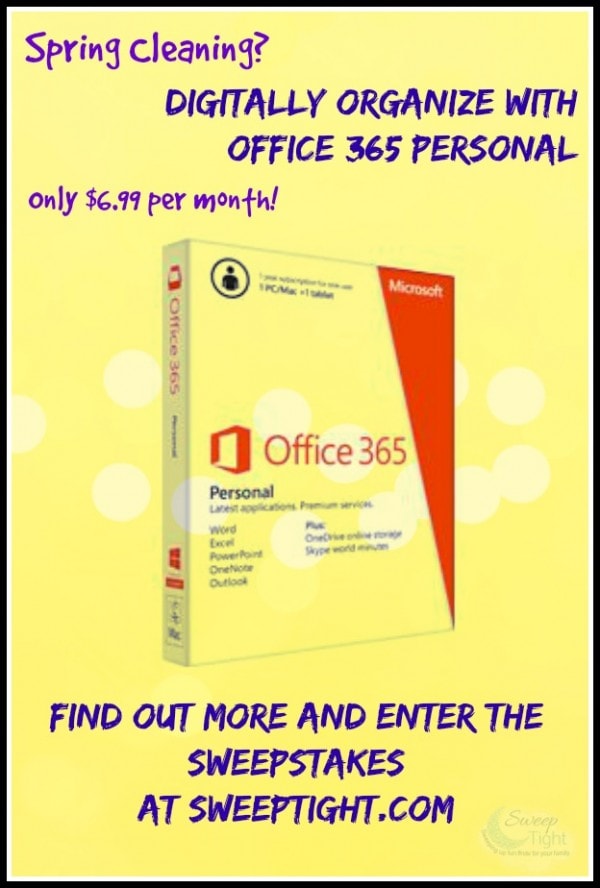 Digitally Organize with Office 365 Personal
This new personal version gives you all of the perks of Office 365 for less. It includes the following:
Installations on 1 PC or Mac, and 1 tablet or iPad
Office mobile on multiple smartphones
Latest versions of Word, Excel, PowerPoint, Outlook, OneNote, Publisher, and Access
Easy access to your documents
60 minutes of Skype calls each month to 60+ countries
Convenient subscription that automatically upgrades so you always have the latest features and services
All for only $6.99 a month – or $69.99 per year.
Get the full details and purchase Office 365 products at Walmart. You can even take a quiz to see which version is best for you.
I cannot wait to be able to work from my iPad, tablet, or phone without losing any of my formatting or info. This will be beyond convenient for myself as a blogger. It will also help me on my mission to become more digitally organized. I know my sister is going to love it for her homework, too! What would you use it for?
Want the chance to win $50 towards your own subscription? Simple retweet my tweet!