After falling for him as Sherlock, I couldn't imagine a better DOCTOR STRANGE than Benedict Cumberbatch. He's insanely talented, has a versatile look, and don't even get me started on that voice. <sigh> As part of an all expenses paid press junket, we were able to interview him for 20 glorious minutes. Here's how it went down.
DOCTOR STRANGE: Benedict Cumberbatch
As soon as he neared the entrance to the hotel conference room, 25 bloggers (96% of us female) squealed, hollered and applauded. He humbly entered and sat at the head of the table where a few action and POP figures were on display. He commented on them and for the first time since I've had the privilege of interviewing talents, the room fell awkwardly silent. It was brief, but when someone can silence an entire room of mommy bloggers–and one dad–by just being, you know a real force has arrived. His velvet voice had me totally undone in a matter of milliseconds.
In a frantic attempt to fill the silence, some brave soul mentioned that we had screened DOCTOR STRANGE the night before. He was thrilled and admitted he hadn't yet seen it himself. He said that he wanted to "wait until all the bells and whistles were on" regarding the special effects and see it in IMAX 3D… which we did. (WOW. I'll be posting about that later.)
We were finally able to form coherent–at least somewhat–questions…
How was it working on a set where everything isn't always there? (Regarding CGI)
Benedict Cumberbatch: "Well, the thing about the set… it's a huge mixture. Sometimes Marvel has rooms complete with 360 degree frames you can swing the camera and use within the film. Then, other days, you are literally in a room–I mean not that many, I have to say–where the walls, the floors, everything but the ceiling with diffused light, it's green or blue. You don't know what time it is, you can't get horizons or space right. It's very, very confusing. But you have this incredibly complex previse, which is cartoon formatted–sort of story boarding. So you know exactly where you are, exactly what elements or environments are going to be moving around you. Then it's the same old game of acting. You just turn up to eleven. Everything we do as actors is imaginary circumstances. It's a form of artificial smoke and mirrors. Stepping on the stage you've got a fourth wall–even if I were to walk into this room with a hidden camera, you know at some point you understand that you're walking in, in a character you may be keeping in order for somebody somewhere to see it. So, there's always in the back of your head the idea that you're being watched, or you're performing. You have to sort of make believe. You really do. So there were days when it was more childishly ludicrous, and there were other days when an awful lot of stuff was there. The hardest is sometimes doing the movement, or the spells, or anything to do with when his powers are involved or the weapons he used… It's easier with everything or with nothing. When it's in between that's when you can get a little bit of, 'well, is this going to be a sort of wisp of light, or is it going to be–what's it going to be–sort of thing–shooting out of my hand.'
We assured him that the final result was ON POINT.
What did you feel the first time you saw yourself in full costume?
Benedict Cumberbatch: "Oh, well I felt like a kid. I mean it was just amazing. It was the first proper moment when I thought, oh my God, I'm actually playing a superhero. There's nothing like it and it was very giddy… really, really giddy."
He discussed the slow progression of his wardrobe with the storyline and when it all finally came together…
"I just remember smiling like this. It was just… you can't contain yourself. I never had this on my bucket list–not just this character, but not even being a superhero. I didn't ever think one day I'll be a superhero. Or I'd like to try that. As a kid, as an audience member of Marvel's cinematic universe, I just enjoyed being a part of watching it. I never thought, oh yeah, I fancy to get at that. But the minute I heard, I was like, yeah. Let's get down to business. Great fun. Great, great fun.
The other moment that was really a pinch-yourself-superhero-moment was running down Fifth Avenue. Literally with the silhouette of the Empire State Building at the one end, going that's the building that people crafted storyboards and built these comics on paper at the very beginning of all of this. And I'm running along in red and blue, jumping, pretending to take off on Fifth Avenue. It was amazing."
How long did it take you to get into costume?
Benedict Cumberbatch: "It really depended what state it was in. Nick was brilliant–my costume guy. Because you really do need to become clamped into it. It took us about half an hour. The boots were the longest thing actually. Those are real laces. It's not Velcro. I kept on saying, guys, if it was just a zip…"
He then went on to say that his costume was altered numerous times throughout production to accommodate certain movements.
On wearing the costume off set…
During filming, they were doing some pickups and during one that he said was turning into a "Halloween horror" he noticed a comic book store.
Benedict Cumberbatch: "So I'm gonna go. I'm just gonna go everywhere in my costume. I thought it would be funny for them [the comic book store employees] to see one of the guys off the shelf come in and say hello. It was very funny. They were already dry, but again, like New Yorkers, they're like okay cool, nice to see you. I said, 'Look, if it doesn't–if the movie doesn't work out–can I come in and stack shelves for you?' And they were like, 'yeah, no, that'd be great.'"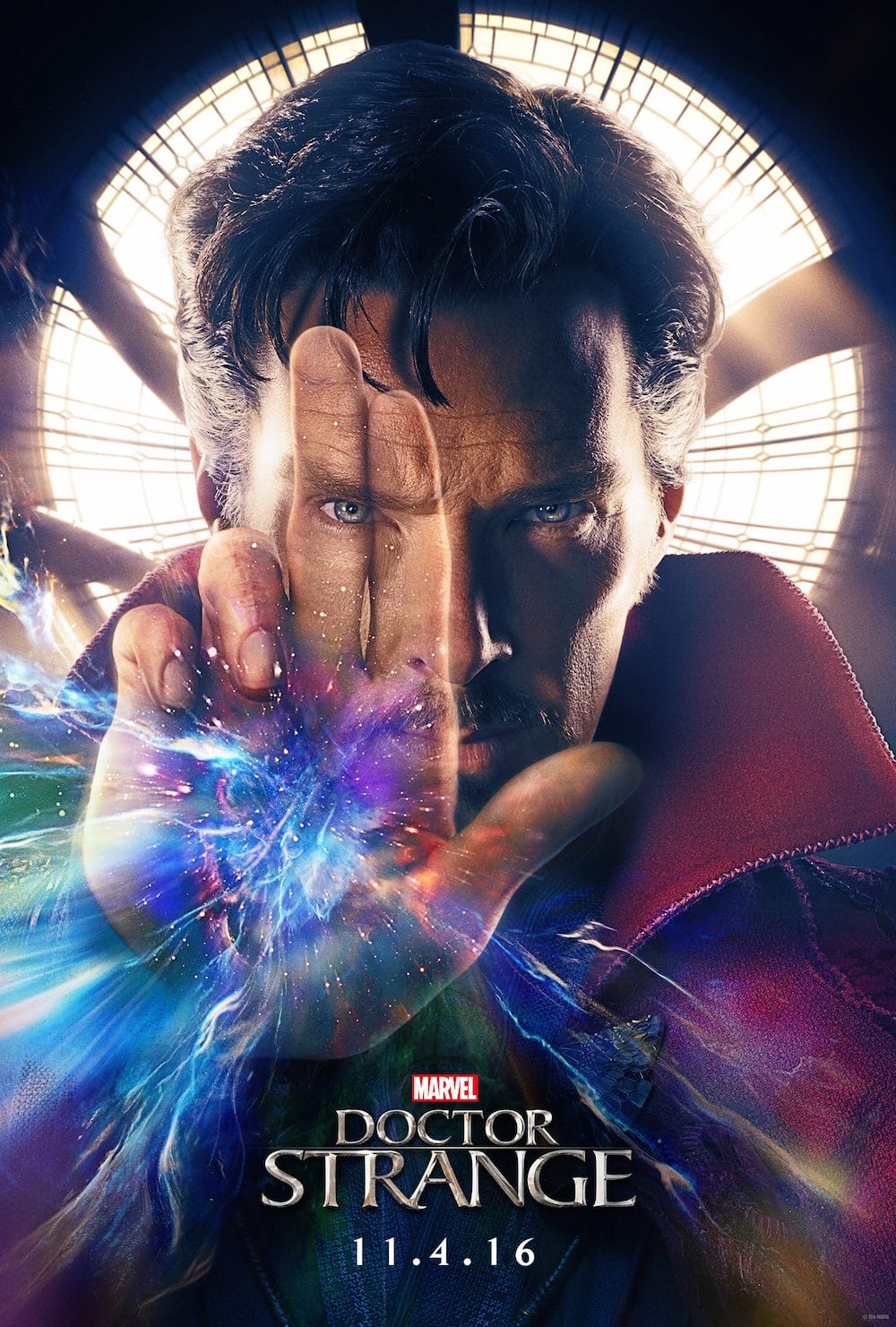 On being chosen for DOCTOR STANGE…
A lot was under discussion regarding him being cast as Dr. Stephen Strange, and when the time finally came and the director said, "we want to film it now," Benedict replied, "I can't."
BC: "I'm doing Hamlet. It [Doctor Strange] went away for a little bit and I was heartbroken. Then they came out and said, 'We can't not make this film with you. We really need it to be you.' For the first time in Marvel's history, they postponed the schedule of the making and the release of the film. Which was amazing. It meant I had a huge amount of responsibility to live up to their faith in me–but that was a great motivation."
How did you prepare?
He talked about the intricate hand movements required for the spells and how he worked with a fantastic "world class tutter" named Julian.
Tutter???
BC: "It's like break dancing from the wrists up. Tutting… it's these stunning geometric, or abstract shapes he creates with his hands. A rabbit silhouette or… the rest of it was sort of evolved with everything from Tai Chi to Kung Fu, to the fight style… Thank God it was an origin story so I was learning with him. The biggest thing I do and sort of accomplished was the gymnastics. The aerial gymnastics for the wire work I did in the stunt scenes or the flying or being catapulted backwards… you know those kind of things. It was a touch.. I won't lie… it was really enjoyable."
He talked about how he had to train to be fit enough to do it, then had to do yoga to be supple enough. Then martial arts. Then stunt choreography. Then wire work. He called it "great fun." But I think it's safe to say he worked his ass off.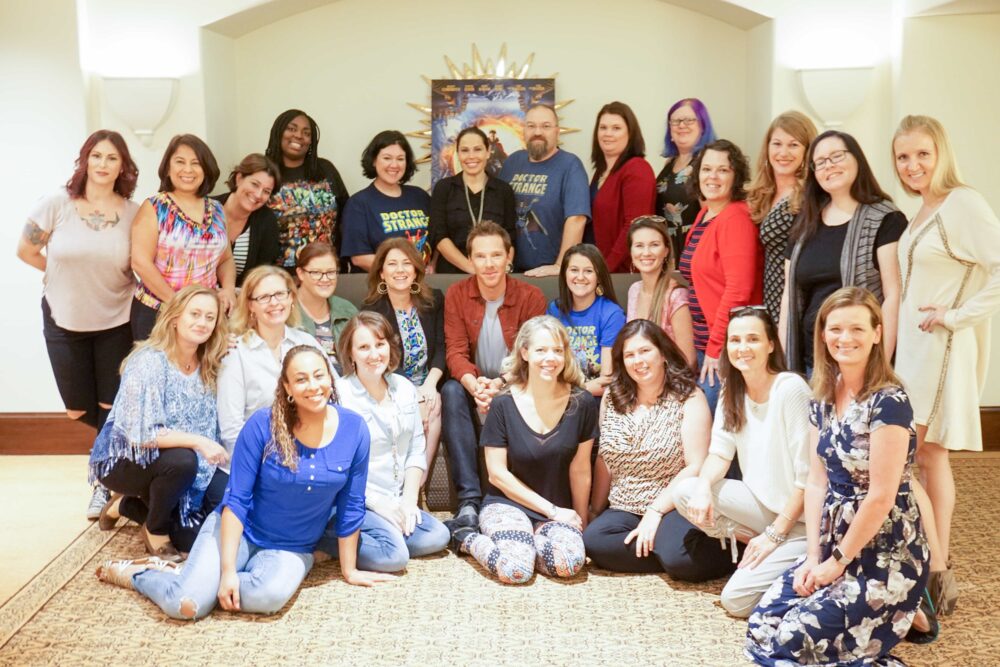 Benedict Cumberbatch is truly a dedicated artist and no one could have made a more perfect DOCTOR STRANGE. He was absolutely worth the wait.
See DOCTOR STRANGE in IMAX 3D (only way to do it right) November 4th!
More DOCTOR STRANGE cast interviews:
I mean really, can you imagine anyone else other than Benedict Cumberbatch as DOCTOR STRANGE?