The Dog Who Saved Halloween DVD from Anchor Bay Entertainment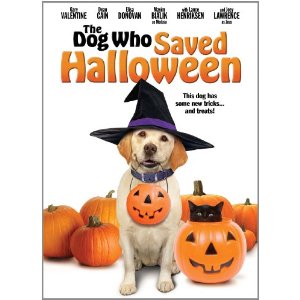 If you are looking for a cute Halloween movie to watch with the kids, look no further! The Dog Who Saved Halloween is a fun loving, entertaining way to celebrate the upcoming holiday with friends, family and kids! The movie is 88 minutes long and is rated PG. The DVD not only includes the actual movie, but also an audio commentary, Halloween Dog Tracks and Bloopers! Bloopers are always my favorite! We love having family get-togethers and we typically watch a movie during that gathering. This year for Halloween we have our pick! This movie is simply adorable and a great way to spend time with the family. Product was received for review purposes and this post may contain affiliate links.
I don't want to give away the story, but this is a movie that stars the voices of Mayim Bialik and Joey Lawrence, who work together for the first time since their says on the sitcom of Blossom. The movie begins with the Bannister family (including their dog Zeus) moves to a new neighborhood. They start noticing strange sounds from their new neighbor's house, another neighbor's cat goes missing and there are strange lights and happenings at this house next door. The father of the Bannister family, George, decides to investigate this matter further and gets his children, neighbors and dog involved! Joey Lawrence is the voice of Zeus, who is a super cute, scared and entertaining dog who comes through and saves the day when those investigating the noises get trapped inside of the scary house next door! This dog has some new tricks AND treats just in time for the Halloween season!
This is the perfect Halloween gift for those kids in your life! We are going to get our nephews a copy of this movie! I know they will love it! We give this movie two thumbs up and highly recommend it! It's great for family night movies and for getting you into that Halloween spirit! Enjoy!