Hand to Toe Wash & Shampoo and Body Wash

School is in, keep germs out! When we become parents, we try to keep all dangers away from our kids. Sometimes there is danger where we may not even realize. Do you know what's in the soap at your child's school? I can almost guarantee you the school isn't worried about what dangers may be in the soap. Most likely you'll find detergents, toxins and pesticides in the soaps at schools. One specific toxin that is found in soap is called Triclosan. Triclosan has been known to alter thyroid function and the levels have increased in humans 50% since 2004! Product was received for review purposes and this post may contain affiliate links.
As a parent who wants to avoid these dangers and as a parent who prefers using organic and natural products, I can truly appreciate that Earth Mama Angel Baby has various soaps available that are safe for our children. They even have trial sizes available so you can stuff one in your child's backpack for use at school! Incredible, isn't it? 🙂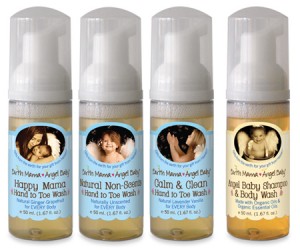 We recently tried four of the Earth Mama Angel Baby foam soaps. All of these soaps are USDA Certified made with organic ingredients. None of them have Triclosan or any other toxins! They are all great for every age, every member of your family. These are the soaps we tried from Earth Mama Angel Baby:
Naturally Calming Lavender Vanilla Calm & Clean Hand to Toe Wash
Truly Unscented Natural Non-Scents Hands to Toe Wash
Exhilarating, queasy-busting Ginger Grapefruit Happy Mama Hand to Toe Wash
Gentle Vanilla Sweet Orange Angel Baby Shampoo & Body Wash
Our favorite was the last item, the Vanilla Sweet Orange Angel Baby Shampoo & Body Wash. We actually have a larger bottle of this and regularly use this for our 14 month old's bath time! It's great! Second favorite was the Ginger Grapefruit Happy Mama Hand to Toe Wash. It has a refreshing scent and I really enjoyed it! I keep this one in my purse for use when out and about. The smaller sized bottles are perfect to send along with your kids to keep germs away when they are away from home! They are great for your purse as well! They came in handy and we'll be ordering additional small bottles for outings!
Also, check out Earth Mama Angel Baby for many additional organic products that are great for your family! They have fantastic pregnancy and breastfeeding items too!