When you keep something organized, it always FEELS better. However, it is not always easy to keep up with the organization, or at least for me it isn't. I usually have a mess of jewelry, office supplies, makeup, hair accessories, etc shoved in drawers and cupboards. I was excited to receive a Stick It, a magnetic accessory gallery for review from Just Solutions, and it makes organizing my small accessories even easier than throwing them in a drawer.
Stick It – The Magnetic Gallery to Help Keep you Organized
This magnetic frame is simple, yet extremely useful. It holds magnetic friendly jewelry, clips, buttons, office accessories, and more. You can decorate it to suit your style (different backgrounds, paint the frame, whatever you want to do!), and hang it or put it on a side table, dresser, counter, or desk.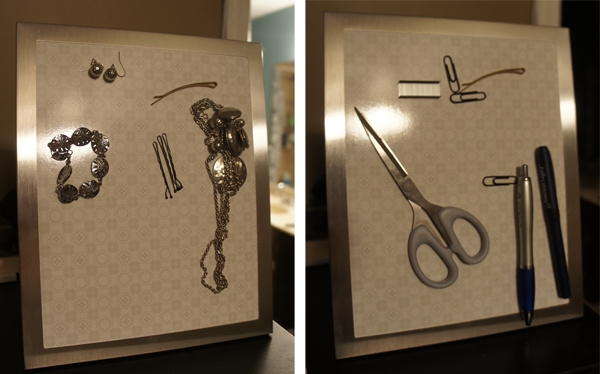 I found it useful both in the bathroom as I take bobby pins out of my hair and look for small stud earrings. I am always losing those things, and it will be nice to keep them close on my bathroom counter. If I had another one available, it could be useful on my desk at work to hold paperclips, staples, and pens. This leaves items totally accessible, and easy to find.
Just Solutions offers a variety of products that help make things easier. Not just the Stick It, but The Butler – an organizer for men, Just Crunch – which keeps cereal from becoming soggy, Shape It – helps keep boots in shape, Hang It – a jewelry organizer, and so many more unique items that provide solutions to your daily problems.
You can find the Stick It right now at only $19.99 + a holiday special of free shipping. Find out more about Just Solutions and their great ideas on their blog, or catch up with them on Facebook, Twitter and Pinterest.
Get It Here
&
Where would the Stick It help you get organized?