You probably didn't know, I certainly didn't, but September is national coupon month! I am not sure how it is to be celebrated, but a good start would be with the Entertainment Coupon Savings book. I was excited to receive a copy of their book for review – and have been using coupons all over town (and online) since I received it.
Entertainment Coupon Savings book
I had seen this coupon book in stores, but never really taken the time to go through and see all the savings it had to offer. You buy a book that covers your area, so you are able to get restaurant, fast food, and local store coupons. There are also deals for online stores like Overstock.com, and travel like car rental and hotel stays. The restaurant coupons feature mostly buy one get one entrees – which makes dining out much more affordable (or maybe you can just splurge a bit more on your main dish!).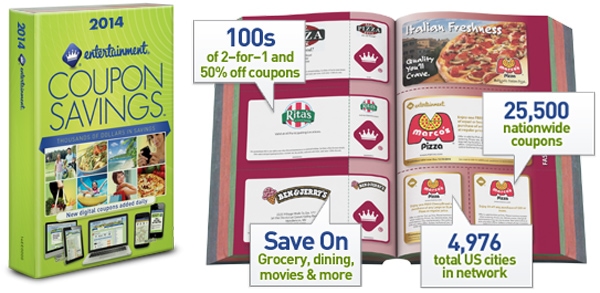 Entertainment has various ways to save. In their product offering they provide both digital access and a printed book. The digital package is only $19.99 and gives you instant access to online coupons as well as on the go mobile coupons. With the book, you have something with you at all times (throw it in the car and bring along wherever you go), and you also get the online access – so you can search the thousands of coupons available online. I think my favorite part is the mobile app (on Apple App Store and Google Play Store) that allows me to search for the deals no matter where I am – no matter what I am looking for at the moment.
The makers of this coupon book also work with schools and community groups to do fundraisers with the coupon books. If you have a business (like a restaurant) you are looking to market – they are also a great way to get your name out in front of the coupon book subscribers (I know it has certainly introduced the hubby and I to quite a few new places!).
You can find out more about the Entertainment Coupon Savings Book at Entertainment.com. Also find them for purchase on Amazon.com.