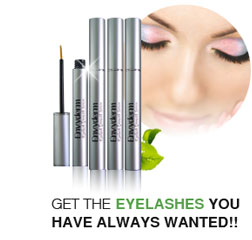 EnvyDerm

Volume Mascara

and EnvyDerm

Intense liquid eyeliner for lash growth and conditioning

These two products complete the set for me since I already have EnvyDerm Lash Growth and Conditioning Serum from a previous review. I noticed positive results from it and was excited to try these new products. Product was received for review purposes and this post may contain affiliate links.

The eyeliner is named correctly because it is definitely intense! It creates a jet black line. The first time I used it I messed up a bit…you have to really be precise while drawing it on. Now I have it pretty mastered. I just line the top of my lid closest to my lashes as possible. It really makes my eyes pop like you wouldn't believe! Even on my tiredest mornings before work, it can create the illusion of perkiness. 😉  As an added bonus, this eyeliner contains natural ingredients to repair lash damage and promote new lash growth.

The mascara is really nice, too. It has a very unique wand that I have personally never seen before. The bristles on the wand are thin and close together which separates every lash and creates a clump-free look. Since all the lashes are separated, it makes it look like you have a lot more of them. This product also contains the eyelash-nourishing ingredients so you can help promote healthy eyelashes while you look gorgeous!

I love that these are double-duty items. I will be honest – sometimes at night it's easy to forget to apply the Lash Growth Serum, but I rarely forget to apply makeup in the morning! This way I am never skipping my eyelash vitamins for the day!