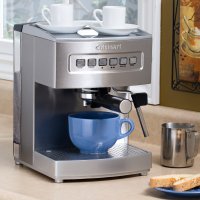 Cuisinart EM-200 Programmable Espresso Maker
Until recently, espresso was kind of foreign to me. I knew I had it in mixed coffees from specialty shops before, but I had never tried it on it's own. I certainly never knew what it was like to make it either… I had never really even looked at espresso machines. Product was received for review purposes and this post may contain affiliate links.
I'd like to start by saying this machine is 100% fantastic.
It comes with a DVD, which, I'll be honest, I put to the side and just browsed the instruction manual and dove right in. It says in the instructions that "As with learning to make an espresso, perfecting the art of milk texturing takes time and practice." I didn't really know what they were talking about. (Jeez, I'm laughing at myself now.)  I made a complete and total mess. So, for all you other noobs out there, respect that this really is an art and watch the video!
Even though I messed up the first time, my espresso tasted pretty good. It was the milk texturing that failed me. But I'm getting the hang of it now! 🙂
I use very fine grounds (I don't have a grinder so I grabbed a bag of beans from my grocery store and set their grinder to the 'espresso' setting,) but I think I'd like to try some espresso pods so the clean-up is a little easier. Don't get me wrong though, even when using loose grounds, cleaning this machine is pretty easy.
One of my favorite features is the cup warmer. You just place your cup on top of the unit while you are getting ready and it warms up your cup! I also love this comes with three different sized filter baskets. One for one serving with loose grounds, one for two servings–or a really strong single serving–with loose grounds, and one for use with espresso pods.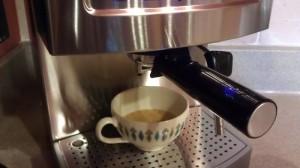 Espresso + steamed milk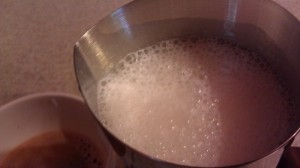 equals…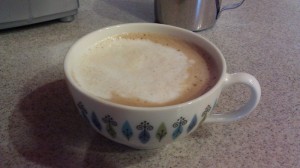 a delicious Latte!
There are so many great recipes that incorporate espresso. From hot and cold drinks to desserts, I am going to be getting a lot of use out of this great small appliance!
Now, when it's my turn for Coffee Break Mondays, I have the ultimate options! I can offer my guests whatever kind of gourmet espresso or coffee they want! I am even having them look up their own recipes to bring over so we can all experiment together! 🙂