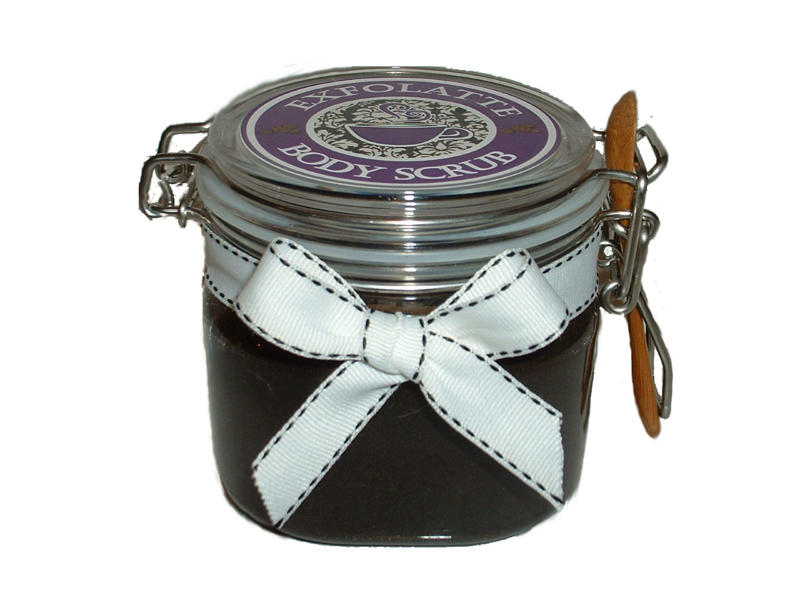 ExfoLatte

Body Scrub and Smoothing Cream

This one's for the true coffee lovers! Like me! I have used coffee-scented bath products in the past, but this is definitely the most intense. The main ingredient is coffee grounds. Others have just had a hint of coffee. This is exactly what I have been looking for to reap the benefits that coffee has to offer. Not only does it give me a nice pick-me-up in my morning shower, but topical application of coffee has a ton of benefits as well. Exfoliation being only one of them. The caffeine in coffee is also known to increase blood flow and reduce the appearance of cellulite and varicose veins. It is also a potent antioxidant, helping to protect from free radicals. Product was received for review purposes and this post may contain affiliate links.

The scrub can also be used as a wrap and even on the face. Caffeine is a great treatment for bags under your eyes, too! While using the scrub in the shower, there is a very strong coffee smell. I like it…however, I do not really want to walk around smelling like coffee all day. As soon as I applied my daily lotion, the coffee smell was masked. I also rinsed out my shower very well afterward. There were quite a few grounds and I wanted to make sure they did not stain my white tub. I like to use the scrub whenever I feel the need to exfoliate – like before applying a self-tanner.

I also received some of the Smoothing Cream, which will be available soon on the site. It's for the body only and to be applied like any cream or lotion. Really makes my skin feel soft and smooth. It has a strong coffee scent, too. I would almost like to see it be sweetened up a tad since I wear it during the day. At least let me smell like coffee with cream! 😉

If you are a coffee fanatic and want to pamper yourself silly, I suggest giving ExfoLatte a try!

If you like coffee bath products, make this exfoliating coffee soap recipe.