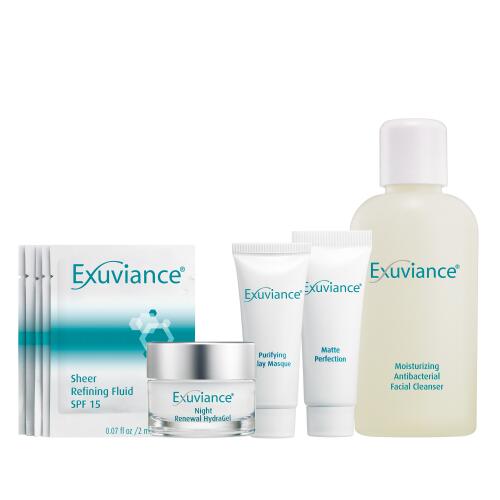 Exuviance Introductory Collection – Oily / Acne Prone Skin
Finally a product for anti-aging and acne-prone skin! Unfortunately, I need help in both of those areas now. There are three choices for this set:  Oily/Acne Prone Skin, Dry/Sensitive Skin and Normal/Combination Skin. Obviously, I chose Oily.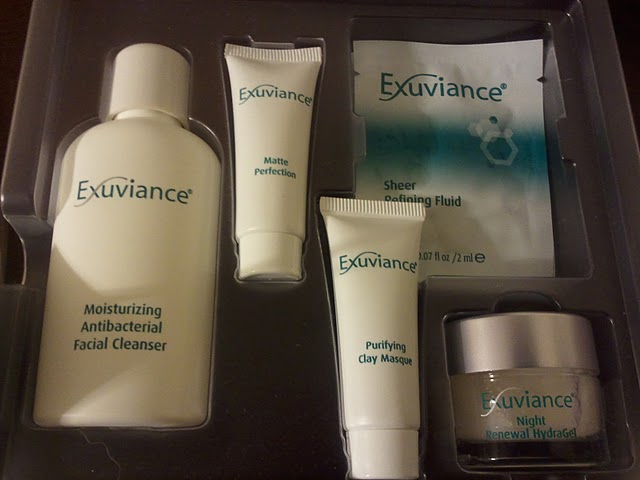 Here are the products included in the kit and my thoughts on each one:

Moisturizing Antibacterial Facial Cleanser:  This cleanser is gentle yet leaves my face feeling very clean. Nothing abrasive or irritating, just cleansing.
Matte Perfection:  A light gel that provides a matte look. This is great for applying under makeup. I notice that I am less oily and my pores appear smaller.
Purifying Clay Masque:  BEST MASK EVER! Seriously, this mask feels so amazing. It has a cooling affect that just makes my face feel like it's being detoxified and nourished at the same time. I look forward to applying a mask once or twice a week and this one is a real treat. My pores are impressively smaller and my skin tighter afterward.
Sheer Refining Fluid SPF 15:  I rarely use any type of moisturizer because of my oiliness, so this is perfect for me. Completely light and non-greasy. It gives me the anti-aging benefits that I need and also provides oil control. Leaves my skin feeling very smooth.
Night Renewal HydraGel:  The feeling of this gel is great. I would like it a lot more if it was unscented, but it's still a very nice product. My skin feels very smooth after sleeping with it on!
After using this set for just a short period of time, I have noticed many positive results. My skin feels tighter and less oily. I anticipate even more benefits after longer use. I feel as though this Exuviance set is a great tool for getting my face bridal-ready!