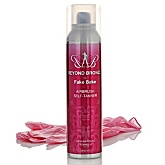 Fake Bake Beyond Bronze Airbrush
Product was received for review purposes and this post may contain affiliate links.
This new Beyond Bronze Airbrush from Fake Bake showed up at the perfect time. When we were in Vegas recently, I fried myself. I don't know what I was thinking, but I hung out in the pool for about 10 hours with very little SPF on. Of course, Las Vegas was about 110 degrees and there was not a cloud in the sky! So…I got fried. We have only been home for about two weeks, so I am still avoiding the sun now. Since it's right in the heart of summer, I still want to maintain my tan!
I read the directions carefully and applied this in my shower. I carefully sprayed my body trying to do so as evenly as possible. You can see it as it goes on, so that helps a lot. It has a nice scent to it and dries quickly. I made sure to rinse the shower out very well because there was definitely some over-spray. The directions say to use gloves, but I did not find it necessary. With it being a spray, I never needed to get my hands dirty.
After letting it completely dry I put my PJ's on and went to bed. The next morning I was very pleased with my results. My skin was a nice golden bronze. Just the sun-kissed look I was going for!
Make sure to visit Just Married with Coupons to read Dawn's review of the new Beyond Bronze Face!

Rainbow Crumbs for You
Weekly newsletter with our latest posts and shenanigans.