The Fall Fashionista Giveaway Event is hosted by The Chief Blonde at Still Blonde After All These Years and Katy from ModlyChic. K Squared Glamour is our co-host! All Fashion! Only FASHION event! Largest Fashion Giveaway event on the internet with $26,000+ in prizes, 100+ participating blogs and 3/4 million entries. Each individual blog has a minimum of $125 prize!
Main Event
For every giveaway in the Fall Fashionista Event that an entrant enters, they gain one entry toward the FALL Fashionista Events Main Event Prizes. Go here to enter Main Event==> $1000 in Main Event Prizes including a $300 prize from Coupons.com
The Main Event Prizes total $1000 and include:
Prize #1 Coupons.com will be providing $300 Pay Pal Cash to Main Event entrants. They want to make sure you know that they are not just a coupon site, they also have great shopping deals all through the year as well. Check out their ever-changing shopping codes page  that is PACKED with shopping deals. Also, they have an incredible Coupons.com blog  which summarizes their hottest deals for the week. Be sure to follow along!
Prize #2 — $100 black and white diamond necklace by Rarities: Fine Jewelry with Carol Brodie.
Prize #3 — $400 Mountain Khaki gift certificate
Prize #4 — $189 Ju-Ju-Be Be Prepared Bag in Black and Silver
Sweep Tight Giveaway
Here at Sweep Tight we are giving away three designer purses and one wallet to one lucky winner. These pieces are from my personal collection. They are all brand new that I have either personally purchased or won as prizes. The prize pack will consist of the following: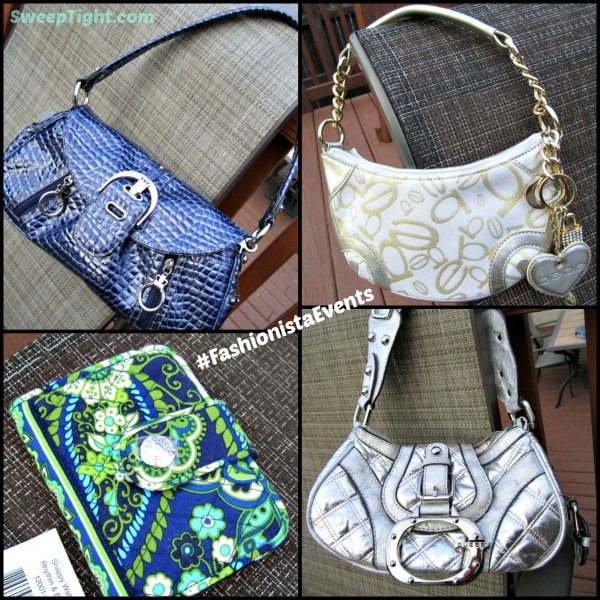 (1) bebe purse with gold hardware
(1) Guess purse with silver hardware
(1) Kathy Van Zeeland purple purse with silver details
(1) Vera Bradley Snappy Wallet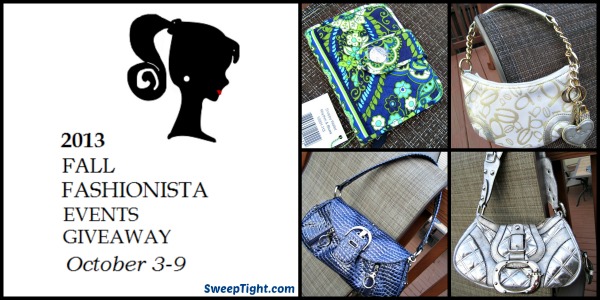 Disclaimer:  Still Blonde after all these YEARS , Modly Chic, K Squared Glamour , Fall Fashionista Events Giveaway or the Fall Fashionista Events Giveaway bloggers are not responsible for sponsors/bloggers that do not fulfill their prizes or for any product failure or harm caused thereby.