Get ready to watch your new favorite series. The Downward Dog show on ABC is guaranteed to become a much-adored piece of your week. This isn't your typical "talking animal" type show. It's incredibly well done. Downward Dog is insightful, meaningful, super relatable, endearing, and heartwarming.
We had the chance to screen two episodes, and I've been anxiously waiting for more ever since. We also talked with Allison Tolman and Samm Hodges! ('Nan' and the voice of 'Martin' respectively.) I wish I could be best friends with these two in real life. They're both such lovely, real people.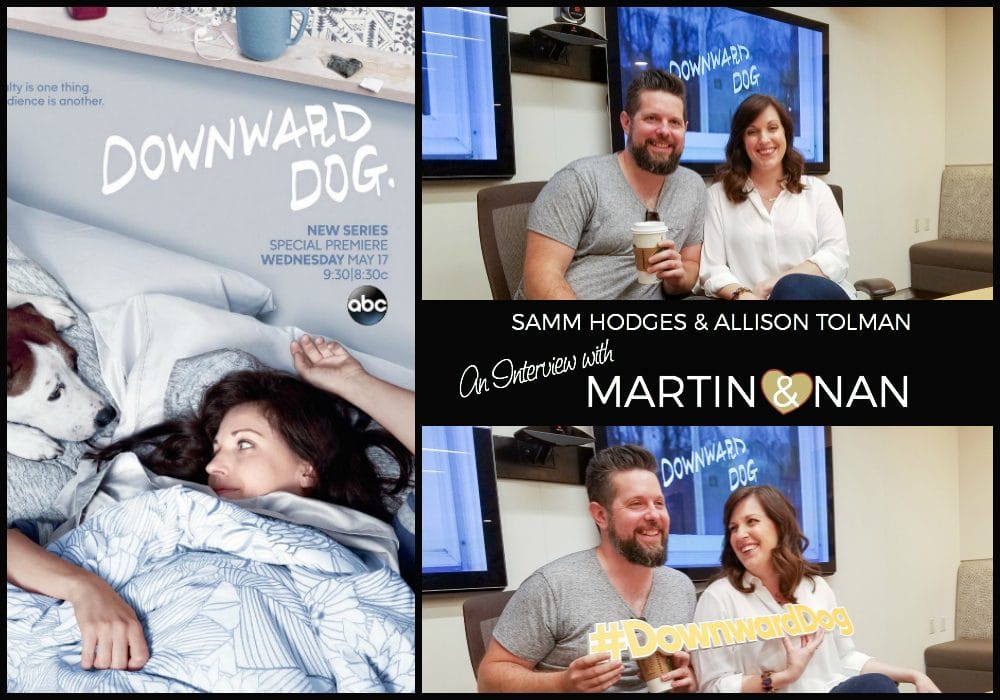 Downward Dog – Show on ABC
Anyone that's ever had a furry family member will fall in love with this show instantly. You experience daily dog life and the dog-owner relationship from Martin's perspective, and it's inspirational. It's like everything we think our dogs must think, he's saying. And Samm delivers everything with the best, dry tone… combined with Ned's perfect facial expressions; the result is brilliant.
Samm Hodges: "I think in the shorts it was about how a dog views his own life. And then we realized a dog has such an intimate view of the life of the owner… So it became much more about the character of Nan and him as an angle for her life–'cause he sees all these moments that no one else sees. And he's there for her…"
Allison Tolman: "I think this is a really special show, because I don't feel like there's a lot, if any, TV shows that really focus on this relationship–which a lot of people–I mean, their relationship with their pet is significant. For me, it's like the most significant relationship in my life. I don't have kids. And I've had my cat for 17 years. She's the longest standing relationship of my entire life [chuckles] and I grew up with her… the transformative power of loving an animal and being in charge of this little life, like truly has affected the person that I am, because I grew up with this cat… I think that's what's really special about it–it's a love story that I think is universal for a lot of people."
About Martin, the Dog
His real name is Ned. He's a mutt–possibly a hound mix–that was rescued from PAWS Chicago! He's around five years old and only had about 6 weeks of training. According to Samm, "In the pilot, he had just been rescued and had just started being trained."
Allison said he was a little jumpy with "rescue dog anxiety." They said Ned was there for quite a while. 🙁
This fact only adds to the appeal of this show. Same said it was important to have a real dog. "He thinks he's the most important being in the world, but it's important for us that he's just a regular old dog;" As opposed to a showy pure bred.
Samm Hodges on Taking on this Project
Samm Hodges not only is the voice for Martin but is also a co-creator of the show. He collaborated with Michael Killen, a fellow commercial director and friend. Michael did the talking Chihuahua for Taco Bell. "So, he's well versed in how to make animals talk and not look like they're just licking peanut butter off of their faces."
But, Samm said, "I was a very unlikely collaborator with him because my writing style has always been way more–I don't know, just very different brands. I kinda looked down on the talking dog things… I had a little darker tone."
After writing the monologs and reading one just to show an example of how it should be read, Michael ended up using that read as the dog. Samm was "shoehorned" into the role from there.
And we couldn't be happier. Samm has the BEST tone and delivery for Martin. You just have to watch Downward Dog and see/hear for yourself.
Allison Tolman on Working with Ned on Set
Allison Tolman: "The funniest thing about working with animals is they're not complicit in what you're doing. They don't know why you just made them do the same thing ten times in a row. So he's like, I don't know why you've been waving this hamburger in my face for three hours in the rain, but I'm gonna take a bite of it. [LAUGHS] Like it seems like you kinda want me to or you wouldn't keep doing that."
Her and Samm both said that those are the moments that add to the show's realness. A lot of those moments make it to screen because they just work so naturally into the story–sometimes changing it altogether for the better. Ned's really running the entire operation if you get right down to it. 😉
SPECIAL PREMIERE
See the first episode tonight at 9:30/8:30c on ABC. Then watch regularly on Tuesdays at 8/7c on ABC. So far, they've filmed only 8 episodes and you're going to want so much more. Make sure you watch live or within 3 days on your DVR, so they get picked up for plenty of seasons!