There is a device for everything these days, and many people have more than one mobile device to lug around on a daily basis. If only there was a way to scale down without giving up any of the features and conveniences. Thankfully, there is: the Samsung Galaxy Tab 4 Nook combines e-reader features with tablet versatility. When Barnes and Noble devised their plan for the Samsung Galaxy Tab 4 Nook, their goal was to create a tablet that everyone would want to use, with the e-reading features Barnes and Noble customers know and love. The method for bringing this about was to take a standard Samsung Galaxy tablet and load it up with Barnes and Noble reading software.
The result of combining Samsung's quality hardware with Barnes and Noble's reading-friendly software is a tablet that doubles as an e-reader. The new device is larger than a standard e-reader, making the words on the screen easy to see. The larger screen is also better suited to watching television shows and movies, which can be downloaded from Barnes and Noble's online catalog. The screen also allows users to enjoy page turn features, including a graphic rich magazine page turn that imitates the appearance of turning a physical page in a magazine.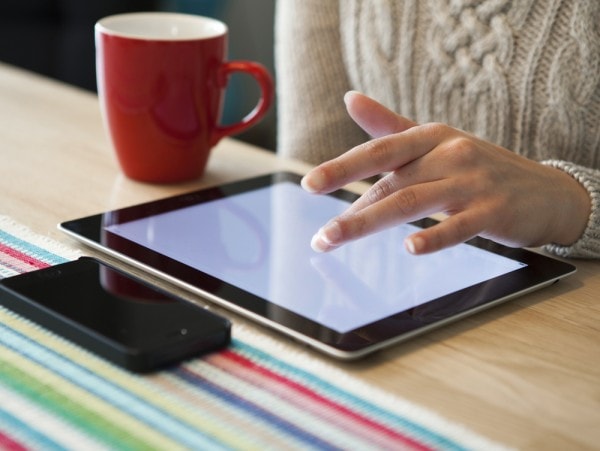 Reading and Note Features
Handy reading features of the Samsung Galaxy Tab 4 Nook, which are not often featured on a regular e-reader, include note taking features, text and background adjustment, and quick resources. When using the Barnes and Noble reading app that comes pre-installed on the tablet, readers can access tools such as a thumbnail table of contents and "article view", which allows you to cut out graphics and focus on the articles in magazines. This is a feature that is extremely useful for visually impaired users as well as those who just want a quick read without having to scroll past screen-hogging pictures. Text change options allow you to change the size and color of font while reading a book, as well as the color of the background. Doing so can help you cut down on glare and the eye strain that is common when reading on LCD screens, explains AllAboutVision.com's article on the effects of electronics usage and eye sight.
These features also mean the tablet is extremely mobile since it can be easily used in any lighting.
Note taking and research resources are also available while reading via the Nook reader app on the Samsung tablet. Features include long swipe, multi-color text highlighting options, in text notations, and one touch dictionary and encyclopedia access. The in text notation and research features are common in Barnes and Noble reading products, listed on their site.
Samsung Specs
Samsung's hardware contributions to the tablet reader are no less impressive. One feature of the Galaxy tablet, not found on other Nook products is the dual camera system. The tablet has a front facing web cam with 1.5 megapixels of resolution and a rear facing camera with 3 megapixels of resolution, according to ConsumerReports.org. The tablet also has built in GPS, which is not found in standard e-readers. The hardware also includes a micro SD card port, which can bump up the memory to 32GB, allowing for tons of storage space for books, videos, and movies. There is also a built in microphone and speaker, as well as a headset jack. The device also supports Bluetooth for easy data transferring. The casing is made of plastic, formed to feel like leather, making the device easy to grip and less prone to smudges and finger prints, notes ConsumerReports.org. Buttons and ports on the casing are positioned in the same spots as on a regular Samsung Galaxy tablet, so Samsung users will find the configuration familiar.
The new Nook tablet blends the best of Samsung's tablet hardware with the well-honed e-reader features that Barnes and Noble has created. Users can enjoy a versatile combination of web and book access with features that make both browsing and reading easy and fun. The variety of options offered by extended access and larger memory capacity make the new tablet appealing to those who want to read e-book and magazines while also having access to work, fun, and shopping online. Integrated software turns the tablet into a top e-reader by giving users viewing options, note taking, and research capabilities not found in a run of the mill tablet.