After rescuing two cats from an abandoned house, I was fortunate enough to receive this hilarious Fish Cat Tunnel for review. Once getting to know my new little friends, I realized that one of the cats, Jake–formerly known as Brian, really likes feeling confined and snug while sleeping. We've found him under the couch, squished in the back of my cluttered closet, and nestled in all kinds of strange locations around the house. Product was received for review purposes and this post may contain affiliate links.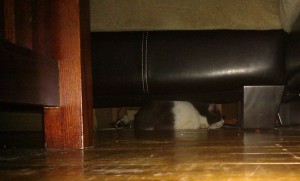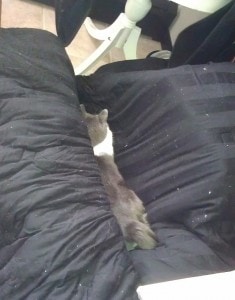 I figured he would love this cat tunnel to play with as it offers that sense of confinement. He was instantly intrigued:
This cat toy is really well made, adorable and fun for all. I was immediately impressed with it's quality construction. It's soft, yet sturdy and able to be compacted for easy storage. It's also got that crinkle factor that cats love. The sound seems to put them into a playful frenzy.
It comes in two styles, the Anglerfish (shown above) and the Goldfish:
For $44.99 for either style, I think it's well worth the price for the quality and durability. Plus, for us, it doubles as a bed!
Our Stewie just loves to relax. He even has his own cat hammock. Our precious cats deserved to be spoiled with all the products that make them feel happy and safe — especially rescue cats.
I've also found tons of other unique and affordable pet supplies from Doctors Foster and Smith that look amazing.
Find Doctors Foster and Smith on Facebook for even more great information on their products.