Chris Pratt guys. Chris freaking Pratt. The best thing about him is he doesn't seem to have any clue what a huge deal he is. All of us had heart rates well into the cardio zone, and he was just super chill and happy to hang with us. Being with him IN costume was incredible.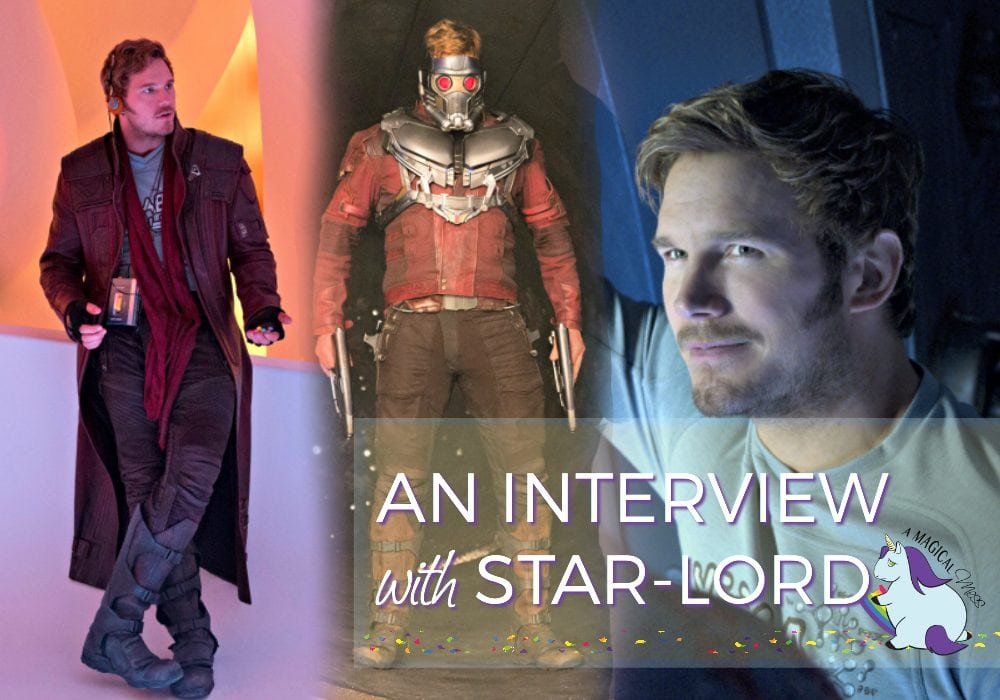 Chris Pratt Guardians of the Galaxy Vol. 2 Interview
What's it like being back?
CP: "Oh God, it's great. Yes, it really is. I mean that too. This movie is coming at the end of a long run of jobs that I've had. Fortunate to have three movies back to back. So this is the third one and I will have been on the road for 13 or 14 months by the time this is over. It feels like the perfect movie to have as the third movie, because–I don't want to compare them, they're all different and I love them all–but it's just, James is so good. He knows exactly what he wants. We all know the characters, everyone's gotten better since the last movie. I'd say we'd really had to pick up right where we left off. It just feels like everyone is on their A game. Days are totally manageable, and the story is spread out enough to where I have days off. Which is really nice, so I've been able to actually get home to LA and Anna and Jack will be able to come out and visit me. It's like getting a nice warm up for the reentry period for when I go back home."
We mentioned that we spoke with Kurt on set earlier that morning. Chris misunderstood and thought we said "her," meaning Anna. His response to the thought of his wife being on set was the most genuine, sweet, and adorable thing I've ever seen. He sat up in his chair, eyes wide, and said, "A surprise?!"
We had to correct him and his face fell in disappointment. I was horrified that we disappointed Chris Pratt. OMG. But, to see such real love–so transparent– was insanely refreshing. They are a sickeningly sweet couple.
What is it like working with Kurt Russell?
CP: "Man, it's been f%#&ing awesome. Not every actor whose been around as long as he's been around is a joy to work with… anyone who has the bad reputation–they kind of earned it [the right to be an asshole on set] by having great careers that expand of the years and stuff. Kurt Russell is not that guy. He is so great. I mean, he's really tough. A lot of people don't know everything about Kurt Russell. He was a professional baseball player. He broke a world record as like a racecar driver as a teenager. He was a pilot for like 25 years… He can build. He like breaks horses. He has horses and breaks them. He's such a man. He's like so good. I was like, I wonder… I asked him if he would be my real dad. No offense to my father… rest in peace dad, but you've been replaced by Kurt Russell."
When you saw the script, what was your first thought?
CP: "When I was first introduced to the story, it was with James. We were sitting and smoking a cigar in his living room, and he was like, okay, here's the story. So, I didn't read the script. He told me exactly what was going to happen. It was before the script had been written and when he told me… I was captivated. I'm so moved and impressed by this story. It's completely different from the first movie, but similar in that it's really going to surprise people and I think it's really good. It's not going to be one of these sequels that's just a rehash of what they did in the first movie. It's taking a big leap forward.
So, for me, hearing that story for the first time, I felt so lucky that he's the dude in charge of this franchise. Because he has such an awesome idea and is really the only one who could bring that idea to the big screen without screwing it up. It's like a giant sense of… there was a rush and a relief at the same time."
What can you tell us about the Awesome Mix Tape Volume 2?
CP: "It absolutely belongs in the movie. You know, sometimes how they put songs in movies, just because, hey, this would be a really cool song to accompany this scene… That's fine, but with James and the way he's done it, he's always allowed the tape to be a narrative tool. To get you in the mood, to get you pumped up, heighten the excitement of the scene or emotion of the scene. He justifies it because it's a prop in the movie, it didn't just come out of nowhere. It's the same with the tape in volume two.
I'm telling you, his mom had even better taste and probably a little bit more money in volume two. The songs are primo and expertly used without being distracting. Once you see the movie, you'll understand more of what I mean. They're used even more as a narrative tool than the first one."
Do you have a favorite song? Since you can't tell us about this one, from the last movie?
CP: "I don't know what I was thinking. In the first movie, I listened to the first soundtrack my entire, every time I worked out for that movie. So by the time the movie rolled around, I hated every song. I guess I would have to rank them from my least favorite one. There are some great songs. But what's great about this second volume is I didn't do that. Also, it makes sense because Peter Quill just got this tape two months ago. So it doesn't have to be engrained in my psyche, the way a tape would be that I've listened to over, and over, and over again, and have come to hate. And then again, learned to love. Which is really where I am at now. I might not be quite to the point where I've learned to love them again, but I know Peter Quill would have been. It's like the pulse of his childhood in this tape, he's listened to it all the time. And I don't have to do that with the second tape… so it's just awesome. There are some songs… Oh, I can't wait for you to see them!"
We asked if he still trains and works out for his role.
He said it's more about maintenance at this point. But they already filmed a shirtless scene <swoon> and he planned for that. But now that that's over, he can indulge a bit more.
We got to see and hold your leather jacket… it's so heavy!
CP: "Yeah, I think when it's wet it's probably close to 50 pounds… The first time I ever put that jacket on, that was the first time I ever really felt like the character. They say that old adage, 'clothes make the man,' but really, the first time you see yourself in–at least for me as an actor–when I'm in wardrobe and I'm looking at myself, and it's something that I would never really wear… all of a sudden, the weight of that jacket, the way it moves when you walk, I found my walk, and I found the feeling of this character for the first time. Anna says the same thing about her shoes that she wears as a character. She'll put on the pair of shoes and that's the first time she really feels it, when she's literally walking in that person's shoes."
What do you want to steal from set this time? (He previously mentioned stealing one of the jackets from the last film.)
CP: "Oh, there's a couple of things! And they're always the best things, and I'm already really good at stealing them. I've already stolen something. I didn't want to say anything. I'll tell you when it's over. I don't want them to hide it from me."
Has your son come to set? What does he think of dad as a superhero?
CP: "Oh yeah, he's been to set a few times and, I can't really tell. It's all about perspective… he doesn't have a world where he's lived where his mom and dad weren't on TV. It's a natural thing for him, to see Anna on her show or if an old movie is on or something… that's life for him.
So he comes to set and mostly he's excited to see me. He's three and a half-four. He's smart. I think he loves it that there are women and other children on set, or there are new people for him to meet and show off. It's the people, like seeing me is the best thing for him on set, but you know what I mean.
The other day, he was–and this is true, and kind of embarrassing. He was behind the monitor with a ComTech on, watching the monitor and he just turns around and he goes, 'Can I get a coconut water?' And I was like, 'Whoa, okay. Somebody needs to go, ah, sweep something up or, he's getting a little too comfortable.' Like, just to no one in particular, 'can I get a coconut water?' Like who are you talking to first of all? Obviously you've seen somebody do that."
How funny! That must be hysterical to see this little guy on set. Chris was glowing when he talked about his family. Again, so freaking cute.
What do you hope people/families will say about this movie when they leave the theater?
CP: "…What I want kids to walk away with is an experience. It's less about what they think about us, but more about who they got to go see the movie with. What they'll always remember the time they went to go see Guardians of the Galaxy with their dad, or their mom, or their uncle. That's what I think about it, it's not so much about what's happening in the movie as much as what's happening for that kid that day. Like, where did you go to eat before you went to the movie theater? The experience of doing it."
In Civil War II, in the comic books, well… who's side do you think you'll choose? Cap or IronMan?
CP: "It's hard for me. I have to let Marvel make the decision for me. I really do, because if it was me, I love Chris, but I also love Robert, like I can't take the subjectivity out of having to choose one of my friends over the other… So, I'll let Marvel make that decision. And then, once they've made it, I will go hard with it. I will ice that other dude out of my life, tell them to hold my calls. I'm going hard core. Dead to me. One of them will be dead to me." <LOL>
What about any love interests in Volume 2?
CP: "Anything that you felt in the first movie, in terms of relationships, we're not going back to where we started, we're picking up where we left off. So there are going to be just naturally, some characters are going to be drawn towards others… but there are also a lot of new characters. So without spoiling it, I will say that, you're likely to get that element, but I won't say with exactly who that is, or how that comes about. I want you to see it."
How's the chemistry on set? Any pranks? Lots of laughing?
CP: "Yeah, it's really fun man. It's really fun… it's some work, but mostly, it goes in order of quantity, it goes like, waiting around and being kind of bored, to looking around and having a ton of fun and being really excited to having to do some hard work that you want to end soon… it's mostly waiting around… the work part is really fun, but truly the best part is getting to know people. Because that time when you're sitting around being bored, you actually start getting to know people."
Do you think playing this role has rubbed off on you at all?
CP: "…Like I said, the clothes make the man, you know. We get the freedom, as actors–this is probably the most pretentious answer you've ever heard–but when you're actors you really get the freedom to change who you are. Whether you put on the clothes, or the persona, or the personality, I think it's something inherently we all do as people anyways. We just don't get credited for it and no one really notices it. But some, you hang out with certain friends, you might act one way, or with another group of friends you might act another… by nature I think to survive socially we're kind of chameleons. I think it does change me to be here, my personality having played this character.
Now, when I go home, I'm a completely different person that I am even right here in this interview. But I'm not, I don't think I'm making a consciences choice to do that. I think it's just a natural thing that happens, because, walking around with guns on my hips, cool galactic boots, I come across like a cocky, confident, dick. And, well, I am, you know." (Super LOLs)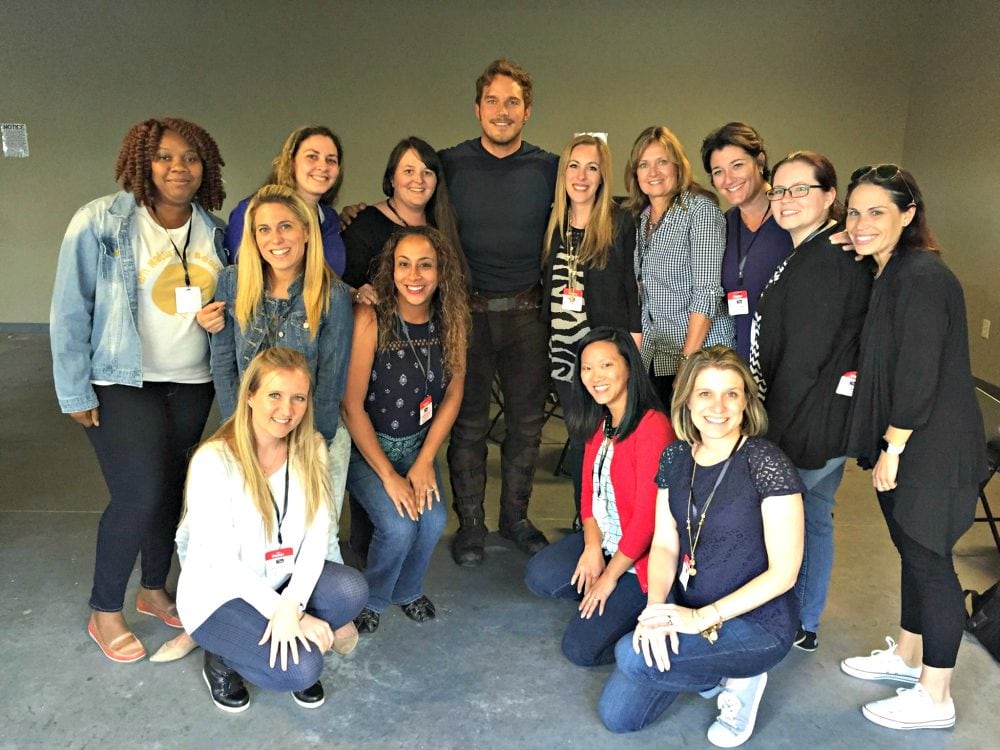 Wow.
Chris Pratt is a doll. On screen, off screen, he's funny, present, honest, and you can just feel that he's a good person. It was an incredible honor to talk to him and be so physically close to such a high caliber of human.
I cannot wait to see how Guardians of the Galaxy Vol. 2 turns out on the big screen! It's in theaters everywhere May 5th so mark your calendars!