Picture your last girls night – fun, friends, food, and maybe a mismatched set of glasses for your drinks? Ok, maybe you have beautiful matching glassware, OR if you are anything like me – you have a beautiful mix of freebie plastic cups about the size of a highball glass from local restaurants (I have eight of them – that is a set, right?!) Product received for review. Post contains affiliate links.
Perfect Girls Night Glasses
Maybe a splurge is in order – a super cute set of glasses from Bormioli could save your girls night from an embarrassing plastic tumbler night. Admittedly, I already had a beautiful set of Bormioli dinner glasses that I received as a wedding gift that I love, but I was so excited to review these Sorgente Fuchsia highball glasses – they are an awesome color. A recent girls night, which included dinner, drinks, and some catching up with old friends was the perfect event to debut my new glasses. A drink on the rocks in this glass looks so much prettier than it did in my plastic ones!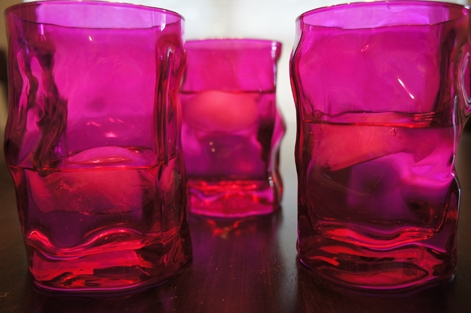 You can find the glasses at Macys.com – don't forget to look for a coupon code 😉 –  Pick these glasses up for your next girls night!
If pink is not your thing – they have some other bold colors as well. The Purple, Aqua, Red, Orange and Lime Green can all be found at Macys.com (I think I might have to pick up some of the Aqua to balance out the Fuchsia for guy's night coming up. The glasses all feature the same funky organic shapes AND they are all dishwasher safe (thank goodness).
What color is your favorite?