Girls night in is a special time where the girls and I all gather for a night of fun, our favorite music, good conversation, yummy food, and delicious drinks. Once or twice a month we all meet up, usually at my home, and have an awesome "girls only" evening, no kids, and no men! We get out our cutest cocktail napkins, our wine and martini glasses, we even get all dolled up…why? Because it is so much fun being a girl and partying with your friends! We have it pretty much down to a science but we are always looking for cute/cool things to add to our night to make it even better, so when I heard about these amazing, festive, hand painted wine glasses, I knew I had found the perfect addition to our girls night. Product received for review. Post contains affiliate links.
Girls Night with Designs by Lolita
Designs by Lolita hand painted glasses are perfect for a night in with the girls. Lolita's designs are fun, fabulous and highly collectible. Drawing on everyday moments for her inspiration, Lolita takes moments in life and creates a fantastic design to celebrate it. There are so many beautiful and fun designs to choose from, you are sure to find one to match your personality perfectly!
As a designer, Lolita sees something quite extraordinary in the everyday and ordinary of life. She brings her vision into her products as a reflection of the Lolita lifestyle. It's a balance of fun, entertaining and celebrating moments with the special people in our lives.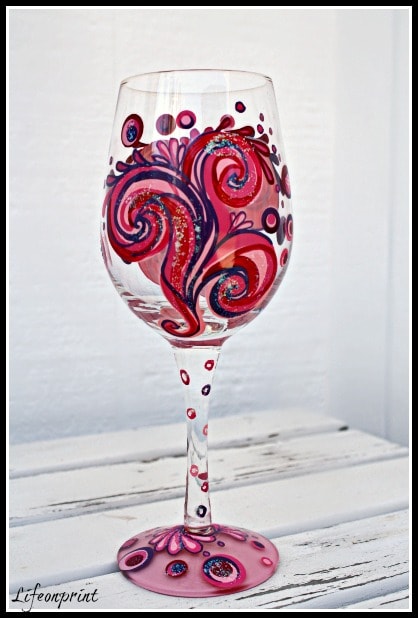 This beautiful wine glass is Lolita's "Razzmatazz" design, with swirls of pinks and purples and a splash of iridescent glitter, so pretty and fun! The moment I laid eyes on this gorgeous hand painted wine glass I knew that it would be the only glass I ever drank wine from at home again! Designs by Lolita glasses are to be washed gently by hand as to preserve the artwork, which is fine in my book, this is truly a piece of art and I want to treat it as such. I felt so fancy drinking my wine out of this beautiful glass and I know you will too!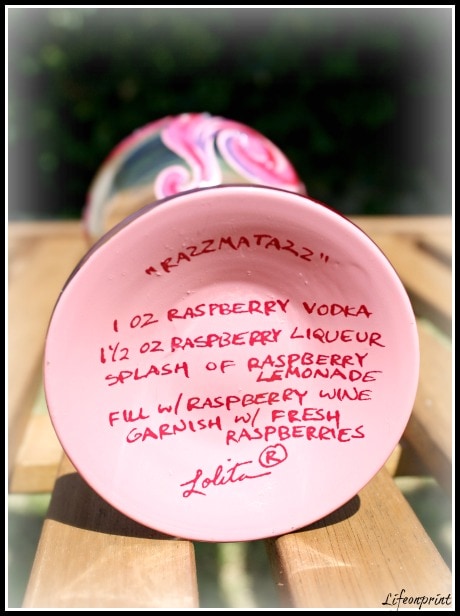 **Each gorgeous hand painted glass also comes with a fabulous drink recipe painted on the bottom!
The Holidays are right around the corner and Designs by Lolita glasses would make a wonderful, one of a kind prezzy for any of the special girlies in your life. Affordably priced and high quality, I know what I'll be buying for my favorite girlies for Christmas!

Designs by Lolita also offer a variety of accessories such as this festive Holiday wine topper pictures above, along with party tableware, paper products, a variety of themed glasses, and seasonal items!


I give Designs by Lolita 5 shimmery stars for; uniqueness, quality, beauty, artistry, fun and festive, hand-painted designs, and for being a truly awesome product!