I received the Graco Glider LX Gliding Swing for baby to facilitate this review. All thoughts and opinions are my own.
Well, I don't have babies anymore but all my friends are starting to have them. Being a young mom has turned out to be really fun. My kids are already 9 and 12, but all my friends are just starting their families. It's amazing how fast you forget what that first year is like. But as soon as your BFF stops by with a crying infant, that entire first year of no sleep and pure stress comes flooding back.
Baby – The First Year
Here is what I remember:
Not sleeping
Being concerned 100% of the time

be it for the baby's safety, health, development, my personal responsibilities, what other people are thinking, this could go on forever…

Obsessing on the details

Days dictated solely by 

nap times

Photographing EVERY "first"

first bath, first bananas, first laugh…

How it all happened in like under a minute
Honestly, the only reason I do remember anything is because I took so many photos. SO photograph and record everything!
My best tip for the first year of parenting is to just relax. I spent so much of my pitiful, tired brain power on stressing out over all the little stuff that I don't have as many fun memories as I should. Take full advantage of all the wonderful products that make life easier so that you can sit back and just enjoy it all.
Graco Glider LX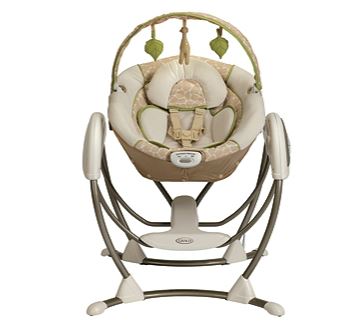 Ha! I'm actually old enough to say, "Back when I was raising babies…" Oh man. Seriously though, when my kids were babies I had a baby swing. This thing didn't recline or vibrate or provide any sort of real cushioned support for baby. When I saw this Graco Glider LX I was really impressed with how far they've come with comfort innovations. I want one of these for ME! But, since I am far from the 30 pound weight limit, I am thrilled to see my friends' baby relish in these awesome creature comforts. And, just as important, see my friend get a few minutes of relaxation while baby is safe and cozy.
Graco Glider LX Gliding Swing, AffiniaGet It Here
This baby glider offers:
A gliding motion that mimics a gliding nursery rocking chair
Compact design so it doesn't take up the whole room
Option to plug in OR use batteries

Awesome for moving around the house

Vibrations

Soothing sounds and melodies

Timer

Adjustable recliner with plush cushioning
My friend and her husband cannot wait for their little girl to arrive. I was so excited to drop this off and help get them started with preparations for parenting. I also kind of chuckled because this requires assembly… I remember putting things together "back in the day" and it taking hours of confusion before the project was complete. But, to my disappointment, this Graco Baby Glider was pretty easy to assemble.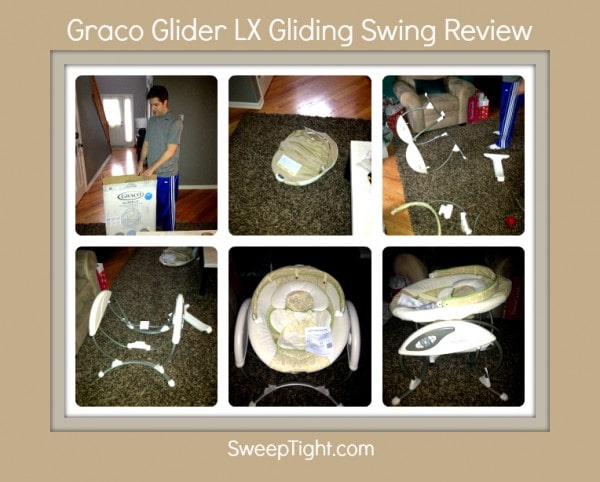 It took them about an hour but the instructions were very straight forward. Overall they love this glider and cannot wait to put it to use. The only complaint they had, was that the toy bar falls off easily. They also mentioned that this only glides when there is weight in it, so don't panic if you turn it on and nothing happens. When baby is in there, it will work perfectly! 🙂