Enjoy Life foods offers a line of foods that are free from the 8 most common allergens. When they contacted me to work with them to let you know about their new soft baked bars, I was happy to try to find something to work into my currently gluten-free diet. I received one of each of the four flavors of the soft baked bars.
Enjoy Life Soft Baked Bars
Expecting something like granola bars, I was pleasantly surprised at the four flavors offered including S'mores, Cherry Cobbler, Chocolate Sunbutter, and Cinnamon Bun. They are great to bring along for a snack from my purse and super yummy too! The S'mores is topped with a chocolate drizzle and features their vanilla honey graham cookies, while the Cherry Cobbler is packed with tart cherries and the Cinnamon Bun features quinoa, cinnamon and apple. My favorite was the Chocolate Sunbutter topped with dark chocolate and satisfies my need for peanut-butter desserty items (like Reese's).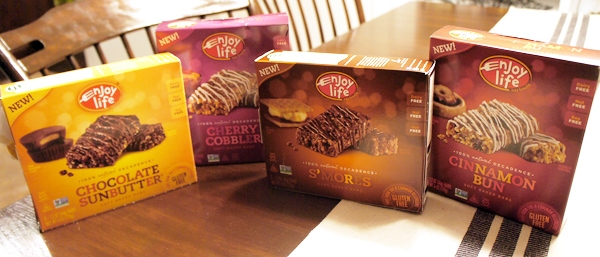 Enjoy Life has a variety of foods – from cereals to cookies to granola or dried fruit mixes. I am excited to get to the store to check out some of their other offerings. If your children suffer from gluten/wheat, dairy, peanut, tree nuts, egg, soy, fish or shellfish allergies (which account for 90% of food allergies) – they are also without casein, potato, sesame and sulfites. I also love that they advertise that they have "no artificial anything"!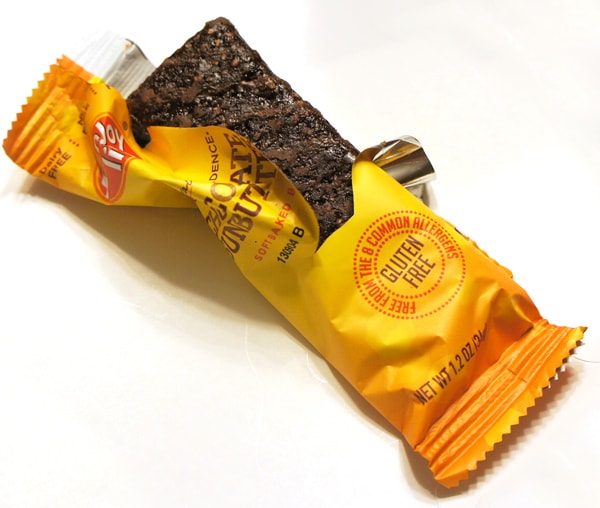 You can buy Enjoy Life foods from the Enjoy Life website – their prices are very reasonable and there is free shipping on orders over $49 or you can use their store locator to find a grocery store near you that offers the brand. If you check out Enjoy Life on facebook, you can get a free recipe book with 94 pages of recipes that are also free of the 8 common allergens (everyone loves free!).