Goji Gourmet cookies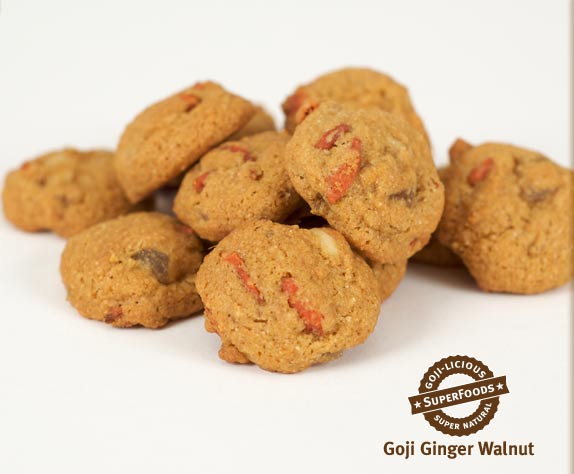 For the life of me I cannot remember where I read it, but I know I read something once that referred to Goji berries as "nature's Xanax". Of course being the spaz that I am, that definitely caught my eye. Anything that can naturally relax my chaotic brain is worth looking into for me! Regardless of the truth behind that, there are so many other reasons to eat Goji berries. The tiny berry packs an enormous antioxidant punch and has been used for centuries for it's health benefits. It is truly a superfood and should be incorporated into everyone's diet….why not in the form of a cookie!?? Product was received for review purposes and this post may contain affiliate links.
I received four flavors of cookies to try out. The Goji Almond Oat, Goji Cherry Cacao, Goji Ginger Walnut and Goji Chocolate Chip. My favorite hands down is the Goji Ginger Walnut. This actually surprised me because I usually find ginger to be a bit too spicy. I was afraid it would overpower this cookie, but not at all. It adds just the right amount of sweet + spicy kick to these delicious cookies. Of course, I also love the Goji chocolate chip. Honestly, I normally feel as though chocolate chips should stand alone in a cookie, but they share with the Goji berry quite well. You can still taste the chocolatey flavor, but with just a hint of berry sweetness added to it. YUM! My favorite is the texture of all of these cookies. Each one is soft and chewy.
With all of the nutrients and superfoods that make up these cookies, this is one snack I can grab without guilt. Since they are sweetened with natural ingredients, I do not experience that "sugar high" feeling like I do with some sugary sweets. Oh, and to top it off, they are also low calorie! Only 25 calories per cookie! You would never know it by the taste.
Rainbow Crumbs for You
Weekly newsletter with our latest posts and shenanigans.