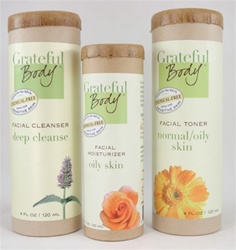 Grateful Body Skin Basics Set
After reading about how Grateful Body got started, I was even more excited to try the products. The owner had two of her sisters die of cancer and it inspired her to create skin care products that contain healing ingredients instead of dangerous chemicals. She is passionate about studying plants and formulating the most effective and beneficial products for your skin. Product was received for review purposes and this post may contain affiliate links.

I was sent a Grateful Body Skin Basics Set to try out. Of course I chose the one for oily skin, but they are also available in normal, dry and sensitive. The first thing I noticed were the eco-friendly packaging tubes they came in. I thought they were really neat and a great way to cut back on waste.
This set includes a facial cleanser, moisturizer and oil treatment. Each one smells amazing and fresh. The cleanser is nice and creamy and feels soothing as it cleans. I really appreciated it after I got a sunburn (shame on me). I was nervous to use anything on my face, but this was so gentle. With no damaging chemicals and only nourishing plant ingredients, I am sure it even helped in healing my skin.
Next I tried the Oil Embargo. Fighting oil with OIL? Sounded a bit counterproductive to me. But, I was willing to give it a try. I was very pleased with the healthy glow that I was left with in place of my usual greasy shine. All I needed was a tiny amount and it put my overactive oil glands in their place! I definitely felt less greasy for several hours.
Finally, comes the moisturizer. Another product where a little goes a very long way. You do not need to use a lot at all. In fact, I only use the tiniest amount in the morning, and then apply it a little more generously at night.
My skin is enjoying all of these wonderful ingredients that nature has to offer! I feel good about this company and everything it stands for. 🙂