Guardians of the Galaxy Vol. 2 is in the first phase of production, even as I sit and type these words. Woo hoo! Get ready, fellow True Believers, because Guardians of the Galaxy Vol. 2 is sure to have all the action, humor, and heart that we all loved about the first one – only bigger, better, and more more Guardian-y.
Guardians of the Galaxy Vol. 2 Begins Principal Photography
I have no idea what principal photography means. I assume it means… Yeah. I have no idea what it means. What I do know for sure is that it means that the second installment of what is arguably one of the best films in the Marvel Cinematic Universe is coming. It. Is. Coming!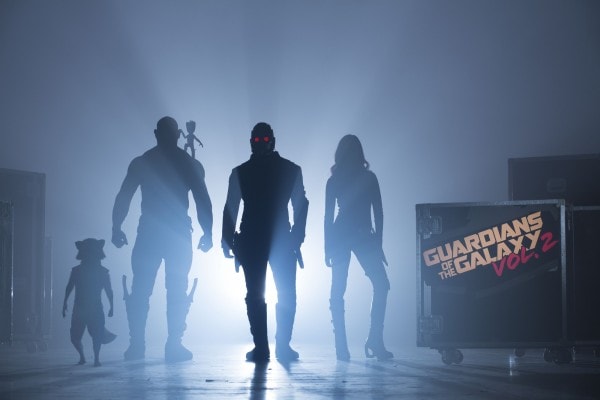 Look at it. Just look at it. Isn't it beautiful? The gang's all here – even tiny Groot – and they're going to be mixing it up to evil with what is sure to be yet another kick ass soundtrack. Perhaps you noticed that the title features "Vol. 2" and not "2". Take note of that. The entire movie is going to feature the second mix tape Star Lord's mom left him. Booyah!
In addition to all the familiar Guardians, we're also going to see new faces like Pom Klementieff from "Oldboy", Elizabeth Debicki from "The Great Gadsby" and "Everest", Chris Sullivan from "The Knick" and "The Drop", and… wait for it… KURT FREAKING RUSSELL from "The Hateful Eight", "Furious 7", and lest we forget "Big Trouble in Little China". I'm excited.
There's no official word on the story line yet, however, I'm sure at this point it is sure to be closely tied into the upcoming Infinity War movie. Only time, press announcements, and leaked info will tell, but whatever it is, it's going to be freaking awesome.
Guardians of the Galaxy Vol. 2
I mean, really, that's all I need to say. Guardians of the Galaxy Vol. 2 is slated to blast into U.S. theaters on May 5th, 2017. Until then here's a little something to remind everyone of how awesome the first Guardians was.
To stay up to date on Guardians of the Galaxy Vol. 2, and the other upcoming films in their lineup, Captain America: Civil War, Doctor Strange, Spider-Man, and Thor: Ragnarok, visit the Marvel website and follow MARVEL on twitter.