It seems like no matter how much you give away or throw away, you always have tons of stuff. Things that are outdated, not being put to use, or simply excessive. Have you heard of repurposed home décor? If not, you're seriously missing out. Repurposing something means giving it a new way to function—a new purpose. When you practice repurposing in your home, you are breathing new life into things that otherwise would have gone to waste. Following are five ideas of how to repurpose some of that "junk" you've got laying around into beautiful and stylish décor accessories.
5 Repurposed Home Décor Ideas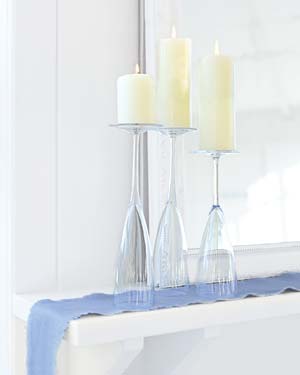 1. Champagne flutes as candle holders
Chances are, you don't use your champagne flutes very often. Maybe you have way too many of them cluttering up your kitchen cupboard and are ready for some space. Consider flipping those champagne flutes upside-down and using them as candle pedestals on your mantel. This is extremely easy, and there's absolutely no work involved—unless you consider flipping a glass over to be work.

2. Satellite dishes as outdoor art
Let's be honest—who uses satellite anymore? If you were once a satellite dish owner, chances are that said dish is taking up space in your backyard, shed, or garage. Instead of throwing that satellite dish in the garbage, get some paint, slap it on the dish, and hang it on your house. Use bright, rich colors that complement your house's exterior paint color. While this may sound like it looks trashy, let us assure you: It looks fantastic.
3. Shopping cart as mobile garden
You see them every once in a while: abandoned shopping carts on the side of the road, far away from the store that they belong to. You may even have come to acquire such a shopping cart at one time or another; if so, then you have a great opportunity to turn that cart into a rolling garden. Just fill the cart with flowering plants or vegetable plants in containers, and you'll have your very own mobile garden that you can place just about anywhere in your back or front yard.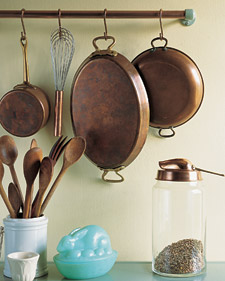 4. Towel bar as kitchen storage
If you have an extra towel bar laying around (who knows— maybe you just renovated the bathroom or moved and have an extra) and have no idea of what to do with that old thing, consider hanging it up in the kitchen. That's right—something that's typically in your bathroom…in your kitchen, and not being used for towels! You can hang pots and pans on the bar, wedge pot and pan lids on the bar…the storage possibilities are endless.
5. Men's ties as a pillow
Those ties might be out of date or have a few stains on them, but they're still good for something. Get out your sewing machine and sew those bad boys together to form an attractive, stylish, and truly one-of-a-kind pillow. Chances are, your friends will want to know where you got it from.
There are just five ideas of how to use repurposing in your home décor. What other
repurposed home décor ideas can you come up with?
Katrina Robinson is a freelance writer, providing high quality content to Viamedic.com, a US located medications facilitator, selling only FDA approved medications and providing comprehensive research, such as the Skin Resource Center.
(Picture Credit: Budget Wise Home, Budget Wise Home)