5 Ways to Decorate Your Wedding for Cheap
As we all know, weddings can be quite costly. We may save for years beforehand and even have to take out a loan to afford it. Although it may be costly, it is something that should be cherished and celebrated with friends and family.
Like anything, you can find ways to save here and there. In fact, you don't have to spend more than a few thousand dollars if you don't want to. Here are some ways you can stay within your budget, yet still have a nice and presentable wedding.
Flowers:  Flowers are probably the most beautiful decoration you can find. So, find one that you're happy with and one that is relatively cheap. Once you've chosen your main flower, figure out whether fake or real flowers would be cheaper. Stores like Michaels and Jo-Ann fabrics are great for fake floral, especially when you take advantage of their sales and coupons.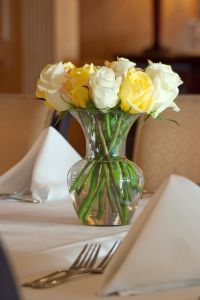 Candles:  Floating candles can have a beautiful affect. What's great about them is they really create a nice glow and can be bought for very cheap, even at The Dollar Store. Be sure to add plenty of them for a cheap yet beautiful look!
Ribbons:  Ribbon can be a very cheap yet nice touch as well. It can be used to hold flower arrangements together, to decorate the main isle at the chapel and can even be used to help dress up all the chairs and silverware.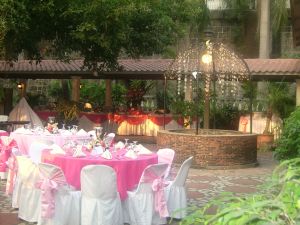 Balloons:  Once the ceremony is over and you head down to the hall for the after party, balloons are a great way to add some color and décor. Colors like silver and gold are very beautiful choices and are also fun for kids. So, choose the main colors for your theme and get several of each. Not to mention, balloons are very cheap!
Candy:  You may never have thought of it, but candy can be a great decoration. Get some cheap yet unique vases at The Dollar Store and fill them with candy that resembles your main colors. If you are choosing pink and purple for your main colors, fill the vases with candy like Skittles, M&Ms and Runts to add a nice touch. Also, the people sitting at the table will also enjoy the added sweetness.
These small touches can really add beauty to your wedding. It's all about being unique, finding beautiful items and finding them all for a reasonable price!
This is a post written by Lauren Dzuris. Lauren runs MyCCFinder, a website that offers several Promo Codes discount codes, and hot deals on just about everything.