How to incorporate accessories into your wedding outfit
When it comes to planning your wedding outfit, the dress is the first thing you'll think of as it will form the centrepiece of your look and is most likely what you've been dreaming of for years. The next thing you may consider is how you're going to have your hair and make-up, and then finally you might start to think about the shoes you're going to wear. One of the last things you may consider, if at all, is what accessories you're going to wear on the day. It's important not to overlook wedding accessories as they can really add to your wedding outfit, making you look even more gorgeous. Here is a quick guide on how to incorporate accessories into your wedding outfit.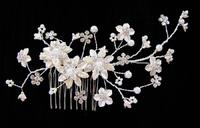 Hair combs
Hair combs are a great choice as they can be worked into almost any wedding hairstyle and are less full-on than a tiara. They come in a wide range of styles, from floral to Art Deco, and can include crystal and pearl designs. If you're having your wedding hair pulled back into a bun then you may want to go for a hair comb on each side of your head, or for a single hair comb just above the bun.
Earrings
As you don't want anything to detract from the gorgeousness of your dress, earrings are a good option as they'll hang above, rather than on, your wedding dress. If you have a highly decorated dress then you'll want to go for a pair of simple drop pearl earrings as these will look elegant and won't compete with your gorgeous dress. On the other hand, if you really want to go to town on your wedding day (and why not!), then you can't beat a pair of crystal chandelier earrings as these will look regal and striking.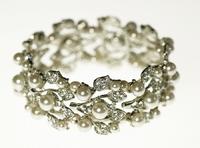 Bracelets
Like earrings, bracelets are another great option as they will sit on your wrist away from your dress. Because of this distance from your wedding dress, you can go for a really opulent bracelet as it will make a real impact and add to the grandeur of your outfit rather than competing with it. A crystal and pearl combination bracelet is a great option as the crystals will add a touch of glitz and glamour, whilst the pearls will look elegant and refined. You might want to opt for coloured crystals to match your flowers or bridesmaid outfits.
Vanessa Barlow works for Oliver Laudus wedding accessories.