Hi! I'm so excited to be able to share my homemade laundry detergent with you today! This is a great way to save money and be a bit easier on the environment.
I have never been so excited to run out of laundry detergent OR to do laundry before in my life! 🙂 That in itself is reason enough for me to try new things like this.
In my quest of being an even bigger cheapskate and wanting to try to go a bit "greener" I decided to make my own. Although I am in love with Gain and obsessed with OxyClean, I really wanted to save some money.
I live in a small town and was able to find all the ingredients easily.
Homemade Laundry Detergent – Big Money Saver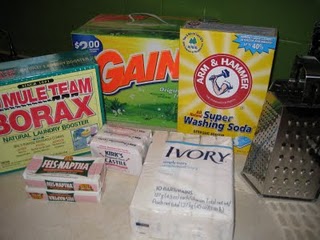 What you need to make your own laundry detergent:
The ingredients (minus the baking soda because I forgot about it until I was mixing it up).
And, because I went to the store without my list, I bought the wrong kind of castille soap. That will be going back. I only needed the Fels-Naptha OR the Ivory, but I already had the Ivory and was surprised I found Fels-Naptha in town so I bought it too… we can always use the ivory in the shower.
3 cups Borax
2 cups baking soda
2 cups washing soda
2 cups grated bar soap
Mix it all together and store in a sealed tub. I used the Gain box I just emptied. Not exactly "sealed" but it will get the job done. **I cut the actual recipe into 1/4. I didn't want to make such a big batch without trying it out first. Now, I make a double batch**
You only use 1/8 cup per load. I looked it up online and it is only 4 tablespoons per full load.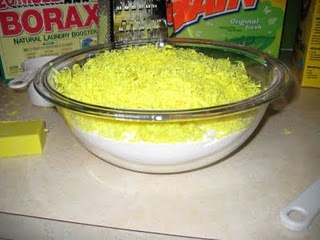 Doesn't it look like food with cheese on top?
Grating the soap wasn't exactly fun, but it wasn't difficult. I could probably have cut it into chunks and put it into my food processor, but Mom didn't answer her phone and I didn't want to do it without asking her first. (She's used to answering the phone to a "Mom, can I…" or "Mom, how do I…." or something similar…. a lot of times I think it is more like "Mom, will you….." :))
Use the smallest 'grate' that you have. This will help the soap break down in the washer.
We have a front load HE washing machine that we bought in April 2009, so I was a little weary. However, all my research says that the most important thing for HE machines is low sud and that's what this is supposed to be.
I was also afraid that it wouldn't have a "clean" smell. (see above mention of  my love for Gain) Fear not– my entire house smells like the detergent I just made. It just smells clean. It is overpowering in the kitchen, but it starting to fade as the dust settles. –it was a bit of a dusty experience. And, truth be told, the more I use this, the more I love it. I ran out for a short time and used some store bought that I had left over. After I made another batch, I liked it EVEN MORE than the store bought! It even smelled cleaner.
A rough cost break down that I researched found that 110.5 loads is $1.11. While I invested a lot more than $1.11 in purchasing it all at first, I didn't use everything I bought and have a bit of a stockpile for future batches.
My disclaimer is this– it is working great for me. Everything I have read online says that it works great. I have seen nothing that makes me weary. However, that's where my expertise ends. I am no chemist or expert.. I'm just a cheapskate with some dirty laundry 🙂 I am using this in an HE front loading washing machine with a water refining system. This recipe is naturally low suds, which is one of the big things to look for with an HE machine. (When I used Gain, I noticed that when the load was finished, I'd still have a 1/4 cup of suds in the rim of the door. I don't have that at all with this mixture.)
More homemade items for the home to try:
If you decide to try it, tweak it, or find something better, let me know! I'm always on the hunt for a better product/better deal! 🙂 I've been searching for a dishwasher detergent as well. I think I just found a winner. I'll be posting that on my blog once I try it out a bit more first!
This post was written by Shannon at Quarry Orchard. This is an excellent money-saving idea. Go check out her blog for even more!